In recent years, there has been considerable advancement in solar technology, and it is in European and American countries that its implementation can be mostly seen. If you are an RVer, there are lots of things you can do with the sunlight shining on your roof, including using it to power your RV battery.
In fact, the best RV solar panels and kit offer the best and cheapest way of powering your off-grid life. From sunlight, which is the natural power source, you can get ample power to juice up your entire off-grid life.
So, it is important for everyone to know that the days when solar technology was ineffective and inefficient are far gone, and there are now bundles of things you can do with power technology, using an RV solar panel.
In this article, we have compiled a list of the best RV solar kits you can get on the market, and we have also included a few sections that might help you make a better buying decision, along with a thorough guide on how to install the panel on your roof after purchase.
Top Picks and Reviews for Best RV Solar Panels and Kit
Based on a couple of considerations, below are our top picks for the best RV solar kit on the market.
| Rank | Name Product | Image | | ​ |
| --- | --- | --- | --- | --- |
| 1 | Renogy 100 Watts 12 Volts Monocrystalline Solar Starter Kit | | | |
| 2 | Renogy 200 Watt 12 Volt Monocrystalline Solar Starter Kit | | | |
| 3 | WindyNation 100 Watt Solar Panel Off-Grid RV Boat Kit | | | |
| 4 | HQST 100 Watts 12 Volts Monocrystalline Slim Solar Panel | | | |
| 5 | Go Power! GP-PSK-120 120W Portable Folding Solar Kit | | | |
| 6 | WindyNation 200 Watt Solar Panel Kit | | | |
| 7 | Renogy 50 Watt 12 Volt Monocrystalline Solar Kit | | | |
| 8 | ECO-WORTHY 20W 12V Solar Panel Kit | | | |
1. Renogy 100 Watts 12 Volts Monocrystalline Solar Starter Kit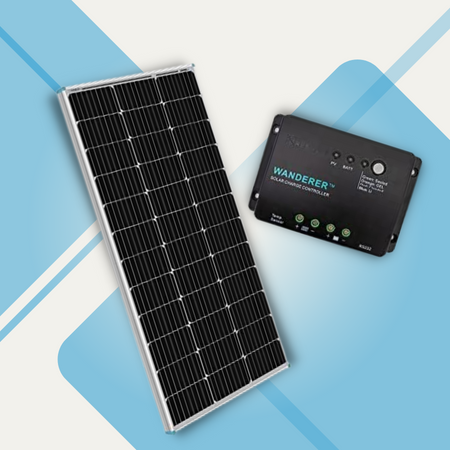 If you are looking for a high-quality but inexpensive RV solar panel, you can't look past the Renogy 100 Watts Monocrystalline Solar Starter Kit. This solar starter kit includes a more developed MPPT charge controller, and also a much more efficient monocrystalline solar panel that offers 100 watts of power with a noteworthy solar conversion efficiency rating of 18.4%.
Furthermore, this starter kit is designed to allow expansion as it is very easy to connect extra solar panels whenever your need for power increases, with the, included MC4 connectors and the charge controller having the capability to handle as many as three extra 100W panels. If you want to utilize AC power, however, you will have to purchase an inverter alongside this kit.
This solar kit is capable of producing adequate energy to charge fans, heaters, deep-cycle batteries, and a lot more. Thus, if you are in search of a solar system that allows for expansion, and offers you efficient power supply and conversion, then you can never go wrong with this RV solar kit.
2. Renogy 200 Watt 12 Volt Monocrystalline Solar Starter Kit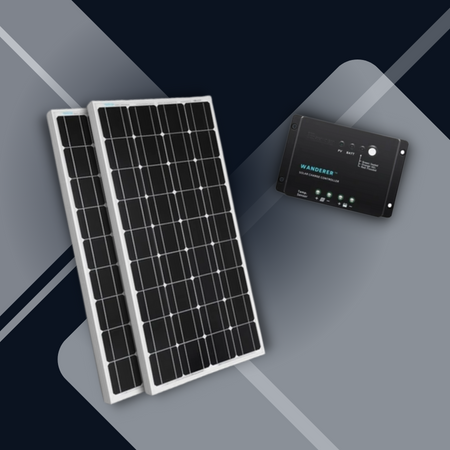 The Renogy 200 Watt Monocrystalline Solar Starter Kit is also one of the best RV solar kits on the market, and also one of the most portable. This kit is designed specifically for people who are just buying a solar panel for the first time. It is highly effective for off-grid uses, which mean that it is suitable for cabins, boats, sheds, trailers, and recreational vehicles.
One amazing benefit of this starter kit is that it is capable of producing power quietly. Also, this starter kit encourages grid independence. It comes with almost all of the tools required to set up a new solar system, including the charge controller, connectors, Z-brackets, adaptor kit, tray cable, and the solar panels themselves.
The 30A PWM charge controller included in the kit can help greatly if you want to expand your solar system up to 400 watts. Besides, it comes with a negative grounding controller that protects the system against short circuit, batter reversal, overloading, and overcharging.
In addition, it is very easy to install this solar panel kit. In actual fact, the installation can be completed in less than an hour. It is, however, lacking when it comes to installation instructions, which isn't really much of a big deal considering the installation is already easy.
3. WindyNation 100 Watt Solar Panel Off-Grid RV Boat Kit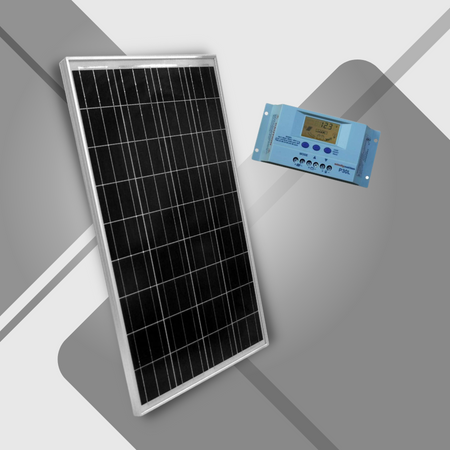 The WindyNation 100 Watt Solar Kit is also another excellent kit for starters. For a really cheap price, this kit provides you with everything required in order to harness direct power from the sun. With its great performance and incredible versatility, this starter kit offers backup power and an efficient and reliable answer to off-grid life.
It comes with a polycrystalline panel that is capable of delivering a max 100 watts. Averagely, the panel produces about 33 Ampere hours or 350W hours, based on the conditions of sunlight. Besides, the kit includes a high-quality and versatile P20L charge controller. You can keep an eye on Ampere hours, amperage, voltage, temperature, and even load draw whilst charging.
The controller is capable of handling three 100 Watt, 12 Volt panels in total, which means there is a chance for you to add an extra two, or utilize six 100 Watt 24 Volt panels. Additionally, the included charge controller has compatibility with AGM, lead acid, lithium batteries, and gel. A deep cycle battery already is included in the kit, alongside a 40 ft long solar cable, mounting hardware, and MC4 connectors. With all this, you need nothing more to complete the installation.
4. HQST 100 Watts 12 Volts Monocrystalline Slim Solar Panel
The HQST 100W 12V Monocrystalline Solar Panel is by a wide margin one of the most outstanding solar panels out there due to its high output and high-quality construction. Having a 12V output and being a monocrystalline solar panel, this solar panel uses the best solar technology available, which makes it very powerful and capable of converting energy efficiently.
The majority of traditional panels utilize aluminum and glass to cover the cells, but this one is laminated. While this adds an additional layer of sturdiness, it makes the solar panels to be very heavy. Another additional benefit it has is that the risk of cracking or shattering the device is very low. Perhaps, the only worry you might have is sharp objects scraping or cutting the laminate.
In general, the HQST 100W 12V solar panel is ideal for people in need of portable and light solar charging. From our research, we discovered that it is most suitable for boats and RVS since it can be installed effortlessly. Besides, it comes at a very affordable price, which makes it a very popular product. Thus, we highly recommend it and we assure you that it's worth checking out.
5. Go Power! GP-PSK-120 120W Portable Folding Solar Kit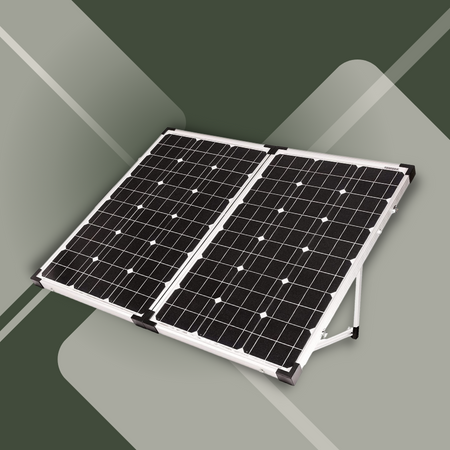 Widely regarded as the quickest and easiest charging solar Panel, the Go Power! GP-PSK-120 120W Portable Folding Solar Kit is one of the most effective solar solutions on the market. Featuring a GP-PSK-120, this solar panel is capable of carrying a 120-watt current. Besides, it is one of the most reliable, convenient, and sturdy solar panels on the market. It is widely renowned for its portability and its ability to fold to fit anywhere, which makes it easy to be carried around.
The solar panels are very efficient and will instantly and easily charge your 12V battery to 100 percent. The Go Power's simple and quick setup is extremely impressive, and the kit comes with almost everything required for installation. This kit includes a solar controller as well as cables together with battery clamps.
In addition, portability is another impressive thing about this unit as you will be able to manage it easily. You can easily and quickly install it within a couple of minutes, thus allowing you to charge your batteries easily.
Also, it comes with a carrying case, which can be really useful should you decide to carry it somewhere. Despite its great performance, however, it is also one of the most expensive options on the market, which is a huge drawback.
6. WindyNation 200 Watt Solar Panel Kit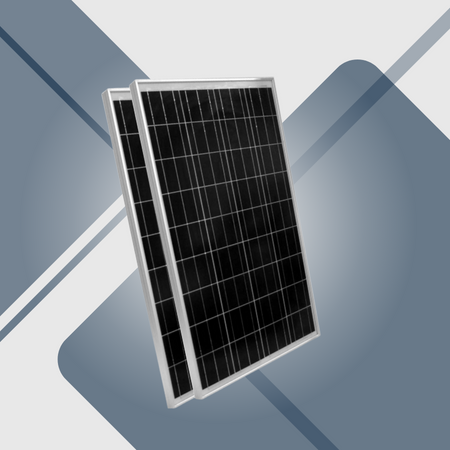 Perfect for campers, houseboat owners, RV owners, and anyone else looking for a simple off-grid power solution, the WindyNation 200 Watt Solar Panel Kit is simply one of the best options on the market. This solar kit uses two 100 amp-hour AGM Deep Cycle 12 Volt Battamax Batteries, 1500W VertaMax DC to AC inverter, and 10W polycrystalline solar panels.
Furthermore, this solar kit comes with every necessary tools including connectors, cables, and mounting accessories for ease of installation. Most buyers of this solar panel kit like the easy-to-follow instructions which takes the hassle out of installation. The easy installation is just another thing that makes this product appealing.
While you may initially struggle with the controller, it is quite easy to figure out. The kit comes with a 30amp controller that has user-adjustable settings and LCD display, which is a really great addition. Generally, this product generates adequate power and most users are satisfied with it.
7. Renogy 50 Watt 12 Volt Monocrystalline Solar Kit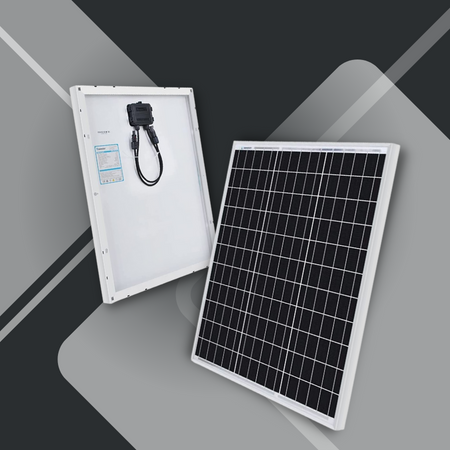 The Renogy 50 Watt 12 Volt Monocrystalline Solar Kit is another excellent off-grid power solution. This gadget in particular is very portable and is ideal for every off-grid application. Regardless of where you are, this portable solar kit from Renogy will solve your charging needs. This kit comes with multiple features, including a self-powered off-grid system, 10Amp charge controller, and an adapter kit.
Furthermore, at just 16 pounds in weight and 27 x 23.5 x 2.5 inches in dimensions, this solar panel kit is very lightweight and portable and is very easy to install. Thus, it's really worth giving consideration. It's fairly sturdy, which means you are guaranteed to enjoy it for several years.
8. ECO-WORTHY 20W 12V Solar Panel Kit
If you're a newbie when it comes to solar technology, the Eco-Worthy 20W 12V Solar Panel Kit might be an ideal option to start with as it is a high-quality product, but also affordable. The kit comes with an outstanding 20W solar panel, a 3-meter-long cable, and a solar charge controller.
Unfortunately, you will still have to purchase an inverted in the event that you wish to be using AC power. However, that seems to be the only genuine con with this kit, as the solar panel is waterproof and also comes with a strong aluminum protective frame which guarantees the longevity of this panel.
Furthermore, the panel is highly efficient, can maintain great power output regardless of the weather condition, and comes at a great price like that, it gives you a perfect chance to get ahold of solar systems before making the heavy investment to manufacture a genuinely green off-grid system. Therefore, if you are just starting out with solar technology, this could be an ideal RV solar panel to get your feet off the ground.
Things to Look For When Choosing the Best RV Solar Panel Kit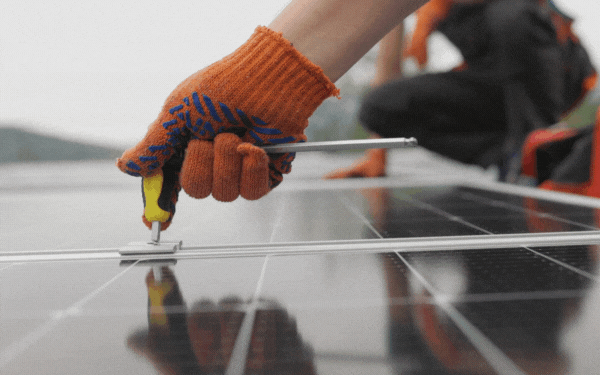 Buying an RV solar system requires a lot of caution, which includes taking a couple of factors into consideration. Below are the most important features you must look for before paying for that RV solar panel.
Power Output
One of the most vital things to think about before buying an RV solar panel is its power output. The best panels most times are monocrystalline panels as they offer the most power while consuming less space. This means that they're ideal for smaller spaces such as your camper's roof.
Also, apart from the panels' efficiency, the number of solar panels is vital. This number will be completely determined by the amount of power you require. The majority of the larger RVs require four or more panels, but four at the least. Smaller vehicles such as vans generally utilize one to two panels.
RV Solar Kits
Some people would think purchasing items separately would be cheaper, but the reverse is actually the case. There are lots of high-quality solar kits on the market that are fairly inexpensive. These solar kits come with all the basic items required for a solar system, which makes the whole installation process much easier.
Generally, the best RV solar kits include items such as solar panels, charge controllers, cables, and mounting brackets. Other basic things required are batteries and inverters. If your energy consumption is high, you might need to purchase the most powerful batteries.
Expandability
When shopping for RV solar panels or kits, the best thing is to look for one that is expandable. Of course, your energy consumption might increase as time passes and you might need to purchase more panels. So as to do this easily you must already have components that are capable of handling higher power output.
This is particularly true for stuff such as the inverter and the charge controller. If you generate excess energy, these devices or the entire system might get damaged. Therefore, carrying out thorough research and looking for an RV solar kit that is expandable.
Size
There is only much your rooftop can handle, so it is a bittersweet procedure to connect multiple solar panels if your rooftop isn't capable of handling it. We recommend referring to your manual to check some basic detail on the weight capacity of your roof. RVs are normally built to withstand a lot of weight, so you won't likely run into a weight issue should you ever decide to go as big as 8+ 20 pounds solar panels.
Durability
Another important consideration you need to make is the durability of the solar panel and other components. Customary solar panels are the best when it comes to durability as they utilize aluminum frames with sturdy glass. On the other hand, flexible solar panels don't smash since they don't utilize glass, but they are more probable of breaking the solar cells themselves.
Also, it is important to look for solar panels that are weather-resistant, dust-resistant, and water-resistant. This enables them to withstand the wear and tear that come with the outdoors.
Ease of Installation
Ease of installation is another major factor you need to take into account. Keep in mind that there are times when you have to take the solar panel down whilst on the road and then install it afterward. If the installation is too difficult and there is no professional to help you around, then you will be really frustrated.
Having said that, check if you will not find it hard to install the panel by yourself. Perhaps, you should opt for models with pre-drilled holes so that you won't waste much time on installing and taking them down.
Warranty
Since RV solar panels can be expensive, it is important to look for models that have the best warranty. You won't like ending up with a faulty solar panel after just a couple of years, making it vital to protect your investment.
The majority of the solar panels out there offer a warranty of a year at least. The leading brands usually offer warranties of up to 20 to 25 years for their models. Other components such as charge controllers and inverters usually can come with warranties ranging from 10 to 15 years.
Benefits of an RV Solar Panel Kit
With each passing day, RV solar panels are getting more and more popular owing to the several benefits they offer. They are incredibly useful and are suitable, especially for when you are on the road for several weeks or even months. Below, we will discuss more on these benefits and why you need to buy one for yourself if you are an RVer.
In general, RV solar panels are an excellent addition to your camper or RV. They enable you to produce energy anywhere the sun shines. Consequently, you will be able to embark on longer and more adventurous trips. It's highly recommended to purchase these devices and you are advised to opt for the model that matches your needs best.
How to Install Solar Panels on Your RV Roof?
If you have never happened to watch the installation blokes install solar panels on the rooftop of a house, then you don't know it easily it can be done. A similar guideline applies to RV solar panels and how they are installed on the roof. While it sounds like a superfluous step, the most vital thing you have to make sure of is that your solar panels are installed on a level surface. It isn't in any way a nice idea to angle them.
Moreover, flat-laying solar panels reduce wind retention, thus the elements won't drag you down while you are driving. Now, make sure you are ready to commit fully to having panels on your roof. When they are installed, it's a rather permanent procedure.
You can utilize 2 different methods to attach them physically to your car, and the latter method is highly recommended. While it adds an additional cost of $20 to the installation costs, it does not cause your roof any structural integrity problems.
Method 1
This method comprises of you just utilizing 4 bolts required by every panel and directly bolting it to your rooftop. Remember that you are going to need to prepare for potential molding and leaks as a consequence, so if you are sure about what you are doing, then proceed. However, it's the latter option we recommend for a couple of reasons.
Method 2
This method involves you first carrying out a pre-installation stage. Ideally, you will be putting several solar panels on your rooftop or completely filling your roof up. As we previously said, you want your solar panels to be totally flat. You will need to measure your roof's length and get 2 wooden rod to run your roof's length. Try keeping the thickness of the poles down to an inch more than the bolts' length, so they are installed without having to go through them.
For the installation of the wooden beams, you will need to drill your rooftop.
Although, the wood is going to be tightly pressed against your rooftop, and entirely conceal the hole, thereby letting you weatherproof and waterproof accordingly prior to you putting your solar panels on them. This reduces risk and also involves fewer holes in your rooftop.
Now, let's discuss wiring.
You will need to somehow run your wires to the principal system. While some RVers run those wires through already existing vent channels, others drill a hole separately and run a number of pipes through their rooftop. However, you are unable to properly insulate and weatherproof this space, and to be sincere, it is a total nightmare. But you can seek help from professionals regarding solutions to this.
So, you have spots designated for bolting your panels down, running the wires, and placing your main system. Make sure that you have sufficient wire space, else, you will require an extension/adapter for the wires. The installation process is very simple provided you get it right: Bolt your panels down, run your wires, and set your central system up as instructed by either your kit or additional purchase.
Conclusion
Gone are the days when solar technology was regarded as the future of the world. In truth, the future is already here as solar technology is actually on the verge of overpowering every other source of power due to its many benefits. So, if you are looking to invest in a solar system, all the products we have reviewed in this article are excellent options.
In case you are still having doubts about the model to choose, we highly recommend the Renogy 100 Watts Monocrystalline Solar Starter Kit. Despite being exceptionally functional, this solar kit is still affordable, making it a top-rated option in the world of solar systems.