Whether you are looking for safety and security or just to add ambiance and atmosphere, finding the best solar spotlights for your home can seem like an overwhelming task with so many on the market.
The key to finding the right lights is to keep in mind some key features and details which may set some out above the others. Once you get to know what you are looking for, your decision will be much easier and clearer to make.
Top Rated Solar Spot Lights
1. InnoGear Upgraded Solar Lights 2-in-1 Waterproof Outdoor Landscape Lighting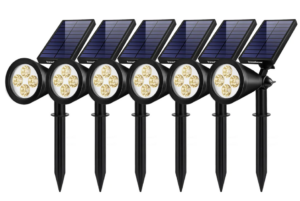 With each spotlight having their own solar panel, these lights can provide a decent amount of light. The included ground spikes make installation as easy as pushing them into the ground in your area of choice, or you can opt to wall mount them using the included screws as well.
The solar panels are easily adjusted to angle in the perfect direction to catch the sun rays. They are waterproof, heatproof and provide a 200-lumen output. They are made from high-resistance ABS plastic. The package of two lights is a fair value. These lights will stay illuminated for 4 to 6 hours on high or 8 to 12 hours on low brightness. The total charge time to full is 8 hours.
2. OPERNEE Motion Sensor Solar Powered Security 6 LED Landscape Light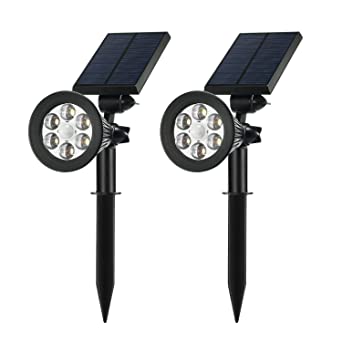 This two-pack of solar spotlights offers two modes of use for those looking for flexibility. If you prefer to use these as a security feature, they have a motion detector, working up to 26 feet away. Alternatively, you can have them illuminated all night long on a high or low brightness setting.
Each light has 6 LED lights for a total output of 300 lumens. The adjustable solar panel is great to catch sunlight in many directions. To install these spotlights, you can choose to drive them into the ground with the detachable ground spikes or use the wall screws.
3. Solar Spotlights 2-in-1 Waterproof Outdoor Landscape Lighting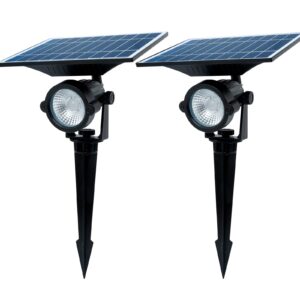 These solar spot lights feature 9 LED lights each and output a total of 180 lumens. The light and solar panel are both adjustable to catch the sunlight and aim the light as needed. Included are wall mount screws and ground spikes so you can choose how to install them.
There are two modes of use which include high power brightness and low power brightness. The lasting time can vary between 4 to 12 hours. These lights are water-resistant and made of plastic.
4. Robust Natural White Solar Spotlights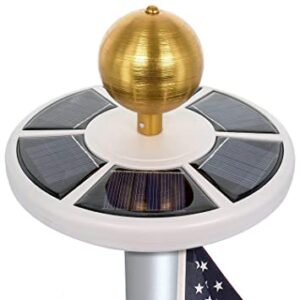 The Robust set of two solar spotlights features a separate solar panel which can be placed within the area of direct sunlight while the lights can be installed elsewhere. They are corded to the solar panel, therefore there are distance limitations.
Their power level is adjustable in low, medium and high brightness for complete customization of your lighting. They are both heatproof and waterproof and even work well in cold winter months. Each light will output 200 lumens in total and can last for a variable time, depending upon use.
5. DrawGreen Solar Lights Outdoor Wireless Security Lighting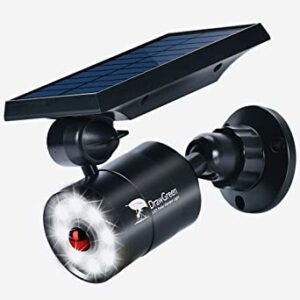 If you are looking for a super bright, security option, this solar spotlight will get the job done. It is a wall-mount spot light with 1400-lumen output, which is equivalent to a 110-watt light bulb. This light is made from durable aluminum alloy which will stand up through even rough weather conditions.
The light is fully charged after 6 to 8 hours of sunlight and can last up to 30 hours of lighting time. It has a motion sensor of 360° to provide safety and security to your space up to 26 feet away. It is waterproof, explosion proof and heatproof.
The solar panel is adjustable as well, to catch sunlight at whatever angle you find it to be. It works by having a weaker, soft light come on at dark and a high-intensity bright light comes on with the sensor.
How Do I Choose Quality Spot Lights?
The key to finding which spotlights will work best in your chosen area is to ensure the ones you select will meet your needs and wants. What may work for one space, may not work for another, so it is important to keep this in mind first and foremost. With your choice of space in mind, you can then look at some other features or extras which will determine your best choice.
Installation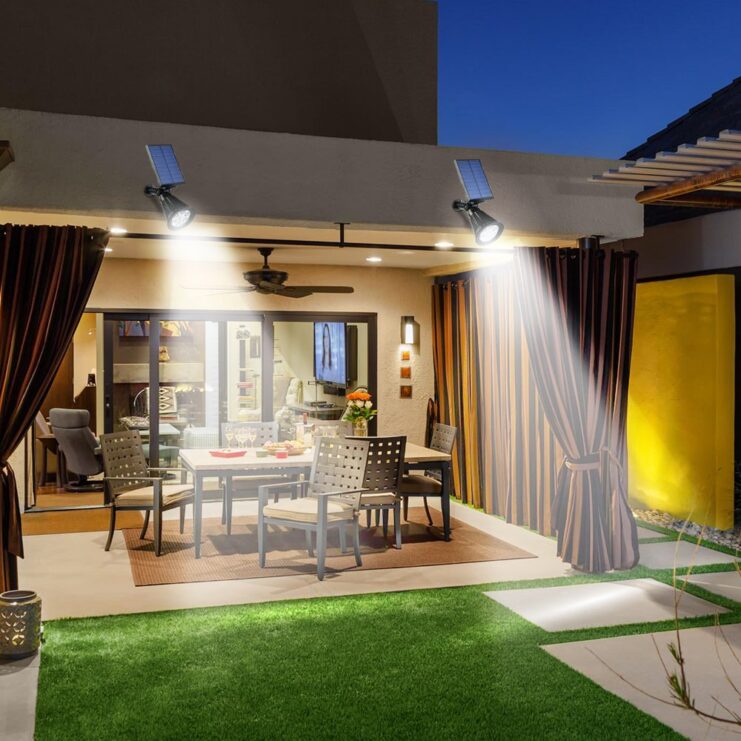 The spotlight you select should be easy for you to install where you would like it to be used. This means if you will need it to shine from above, you should choose one which is capable of being mounted on a wall. However, if you want a spotlight to shine from the ground up, included ground spikes will make installation a breeze.
Scope of Light
Surprisingly, this is a feature many people do not before buying and then once they have their light installed are greatly disappointed. the packaging for the size of the area the spotlight will cover. It should give you a radius that will help you determine if this will be enough area lit up where you will be installing the fixture.
Size
Sometimes bigger is not better. If you are trying to be discreet with your solar spotlight, then you will want to select one which will be less noticeable and smaller than others. It is important to note, the scope of light can be affected by the size of the spotlight you choose since larger lights have more room to work with. If you are selecting a spotlight that lights from the ground upwards, you should also on the height of the light, not including the ground spike.
Overall Construction
What are the solar lights made of that you are thinking of buying? Some may come in a mixture of materials from polyresin to steel or aluminum. These materials will give you a good idea of how long the lights should last and how durable they will be against the elements and outdoor conditions. The best choice, if possible, is aluminum or steel since they tend to be stronger and stand up over time.
Lasting Power/Charge Time
Since you are choosing solar spotlights, one of the most important features you should consider is how long the light will illuminate on one charge. It would be ideal to have a light that lasts for at least 10 hours to get through long nights with changing seasons if you live in such a climate.
The other side of the coin is how long it should take to charge the light and whether will it requires DIRECT sunlight. Some solar lights will not charge properly if not placed in direct sunlight during daytime hours. Depending on where you will place the lights, this could be an issue.
Weather-Proofing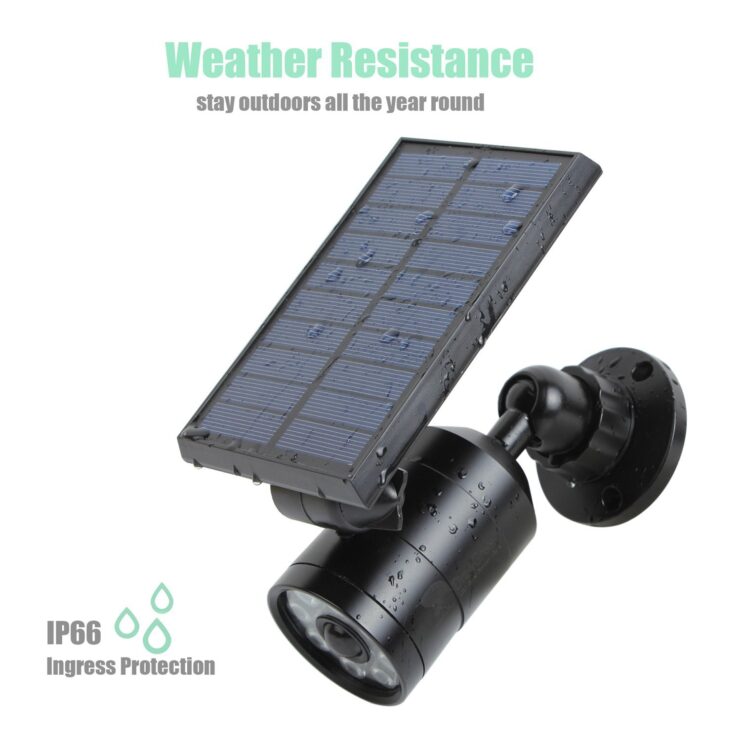 If you live in an ever-changing climate, you want to ensure the lights you choose will hold up against the weather. Downpouring rain and heavy snowfall can take their toll on solar lights that are not properly weatherproofed. The materials that are used in the construction of the light will help determine if weather may be an issue.
Modes of Use
The key to a great solar spotlight is that it will shine brightly in one concentrated area. However, if you do not want a consistent spotlight illuminated all night long, you should opt for a light that offers different modes of use. Some are available with sensors to come on only if motion is detected. These are great for security purposes. Others provide a soft spotlight for accent lighting and ambiance. You need to decide on your intended purpose.
The Winner Is…
You may be looking for a solar spotlight to add a little ambiance and decoration to your outdoor space, or you may be hoping to have added security and safety by lighting a darkened area. Whichever the reason for your desired purchase, you will want to find the best solar spotlight available to meet your exact needs and preferences.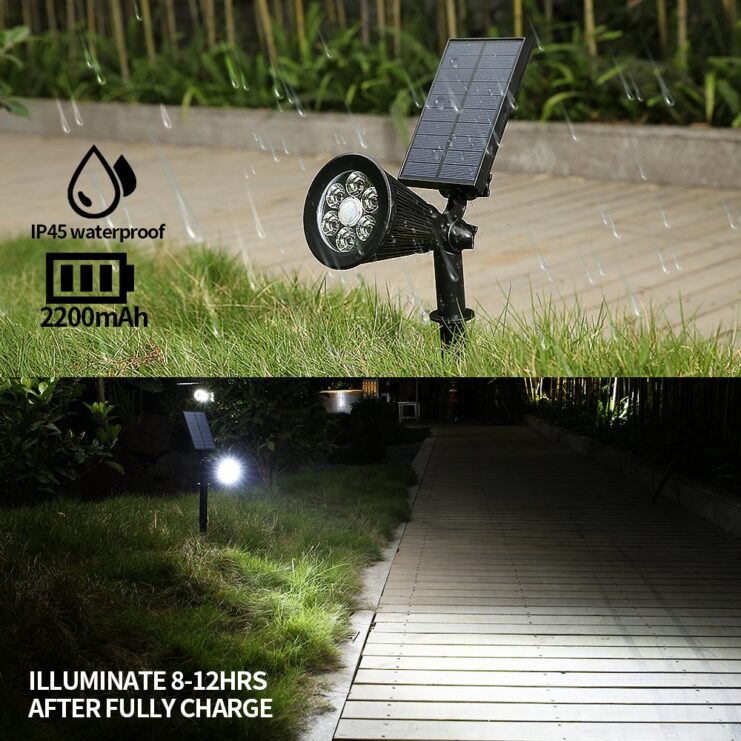 This set of two solar spotlights offers the most variety in use compared to the others. You can opt for low or high brightness consistently, motion sensor only or low brightness with high brightness motion sensor. The adaptability to wall mount or place in the ground is convenient as well.
Having each light output 300 lumens means you won't have to worry about underlighting your space. They last a variety of times depending on your chosen use but only take 6 to 8 hours to charge fully. You can adjust the height and the angle of the solar panel, both great customization features.
Hopefully, this guide has been helpful to find the best solar spotlights for your space. Please leave a question or comment, we enjoy your feedback!