If you have found yourself in the market for a new deep-cycle battery, you will want to choose the right one for the job. Choosing the best deep cycle battery for whatever your intended purposes should take some thought and consideration of important facts and features.
This detailed buying guide will walk you through the key points and characteristics to consider when choosing which to purchase so that you are buying the best one for your specific situation without wasting your time and money.
The Best Deep Cycle Battery for You
1. Vmaxtanks Vmaxslr125 AGM Deep Cycle 12v 125ah SLA rechargeable Battery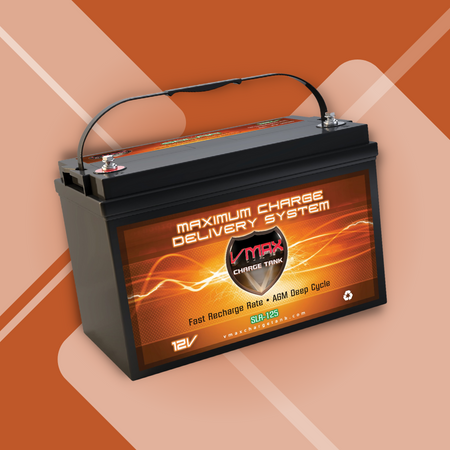 The Vmaxtanks AGM deep cycle battery boasts military-grade plates and a life span of around 8 to 10 years. This 12-volt battery can be connected to additional batteries if you require more output than just one deep-cycle battery. It has a 125-amp hour rating and a faster charging time than other deep-cycle batteries. It is not a very large battery, so you won't require a lot of space to house it, although it may be slightly taller than other similar batteries.
The overall dimensions are 12.9″ long, 6.8″ wide and 8.7″ high with a total weight of 75lbs. The entire battery is encased in plastic, as well as the handle so it may not be advisable to carry the battery too often or it could break.
2. Universal UB121000-45978 12v 100AH Deep Cycle AGM Battery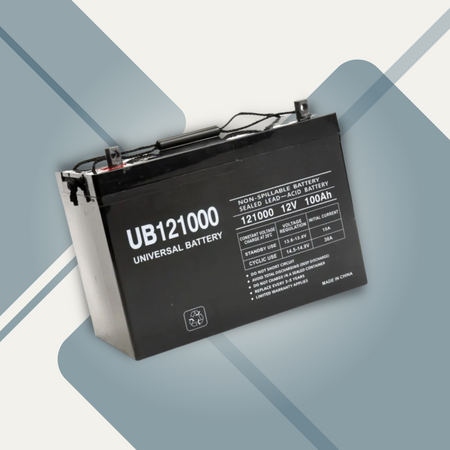 This AGM deep cycle battery comes with an amp-hours rating of 100 and can be mounted safely in any position necessary without compromising power. It comes at a moderate price range and isn't too heavy at just over 60lbs. The overall dimensions are 12.17 inches x 6.61 inches x 9.16 inches, so it will fit nicely into most dedicated spaces. If you wish to have even more power, this battery can be connected to others easily.
It has wing nut terminals as opposed to the bolt-on type, as with other AGM batteries. It is a spill-proof battery, but you will still need to ensure it is properly maintained as with any battery. You never have to worry about vibrations or shocks since this battery is resistant to both. This battery can last for days if being used for things such as a camper or RV.
3. VMAX MR127 12 Volt 100Ah AGM Deep Cycle Maintenance Free Battery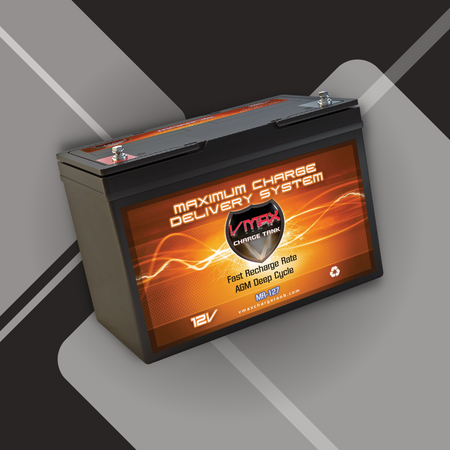 The VMAX 100Ah deep cycle battery is great for boats and trolling motors. It has convenient carrying handles built-in to the casing which flip and up and down as needed. They are made from heavy-duty plastic, so they will support 68lbs. easily.
You can mount and install this battery in any position safely since it is spill-proof. The electrolytes are absorbed by the AGM and it is resistant to most shocks, bumps and vibrations. In fact, it is considered a non-spill and non-hazardous battery. This battery promises to keep performing at it's best even after many deep discharges.
4. Mighty Max Battery ML35-12 – 12V 35AH U1 Deep Cycle AGM Solar Battery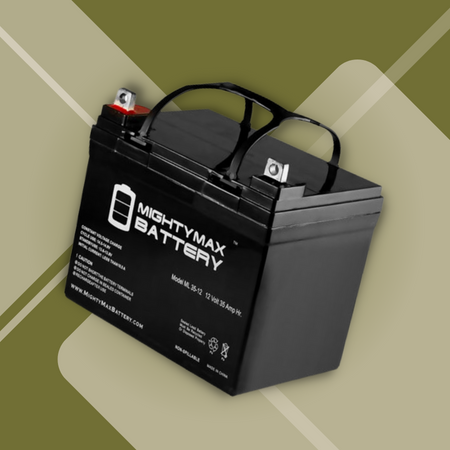 This very affordable deep-cycle battery is small but still gets the job done. It measures only 7.68 inches x 5.16 inches x 7.13 inches and weighs in at about 23lbs. It features a handy loop handle to carry it easily. The small size means it can fit in even the most compact areas. It is versatile to use both indoors and outdoors since it has a valve to regulate it. It is also basically maintenance-free, making it great for users of all experience levels.
You never have to worry about temperatures since this battery is adaptable and can withstand both hot and cold temperatures. If you require a battery that can be recovered well after many deep discharges, this one will stand up to the test.
5. Mighty Max Battery ML18-12 – 12V 18AH CB19-12 SLA AGM Rechargeable Deep Cycle Replacement Battery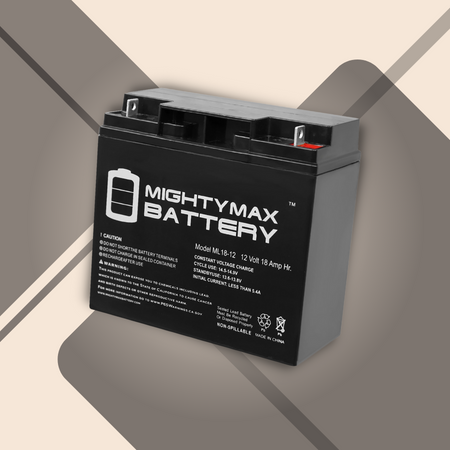 This lightweight, the budget-friendly deep-cycle battery is great for light-duty use and has one of the lowest price points on the market. It has 18-amp hours and 12 volts of power. It is made to withstand varying temperatures; therefore, outdoor use is fine. The battery is maintenance-free and spill-proof. The very small size, 7.13 inches x 3.01 inches x 6.57 inches, means it is ideal for use in kayaks, small boats or medical devices and more. Since it is so light, at just under 12lbs., using it in lighter vehicles is ideal. This battery comes with screws and bolts.
Cons
power-of average
power-off should
6. 12V 55Ah Power Boat Pontoon Electric Trolling Motor Deep Cycle Battery – Mighty Max Battery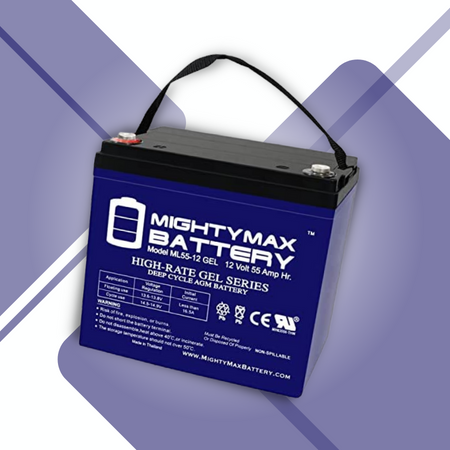 If you are looking for a moderately priced deep-cycle battery, this Mighty Max is ideal. It has an average of 55Ah, which is useful for light to moderate-duty jobs. Since it can be mounted in any position, you won't have trouble fitting it where you need it.
It comes with screws and bolts but no wire harness or hardware for mounting. This battery weighs in around 39lbs. and measures 9.02 in x 5.43 in x 9.13 in. Some great uses include smaller boats, trolling motors, medical equipment and more.
7. 12V 100AH BATTERY FOR SOLAR WIND DEEP CYCLE VRLA 12V 24V 48V – Mighty Max Battery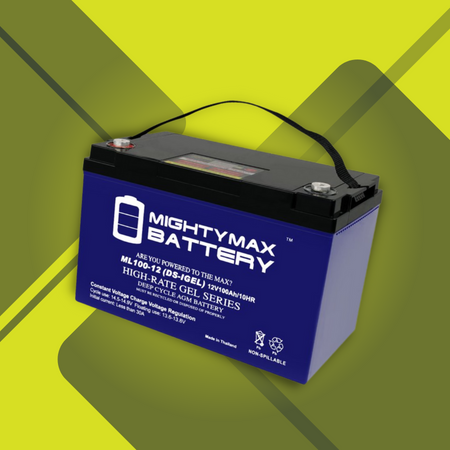 If you have the need to use power for longer periods of time, this Mighty Max deep-cycle battery is great. It has a 100 Amp hour rating and is 12 volts. You will never need to top up this battery with fluids as you would with wet cell batteries. You can start using this battery as soon as you take it from its box. Since it has a calcium-alloy grid, it promises to perform excellently.
The valve regulation means you can use this battery for both inside and outside use, giving you many options such as lawn equipment, boats, solar set-ups and even motorcycles. It is a little on the heavy side, at around 64lbs. but not too large, measuring 12.17 in x 6.61 in x 8.30 in.  The battery comes with terminal screws but no wiring harness or any hardware for mounting purposes.
8. ExpertPower 12v 33ah Rechargeable Deep Cycle Battery
   The ExpertPower deep cycle battery is an economical option without compromising too much power. With the 33Ah rating, users should get about 10 to 17 hours of run time from a single charge. This battery weighs around 23lbs and comes with a built-in plastic carrying handle for added convenience.
It is an AGM valve-regulated battery and can be used for both indoor and outdoor applications such as home alarm systems, power toys, lawn maintenance equipment and more. The overall size of the battery is 7.72 inches long, 5.16 inches wide and 6.34 inches high, allowing for easy installation into most spaces. The terminals are screw-in style as opposed to loop terminals.
9. Optima Batteries 8027-127 D27M BlueTop Starting and Deep Cycle Marine Battery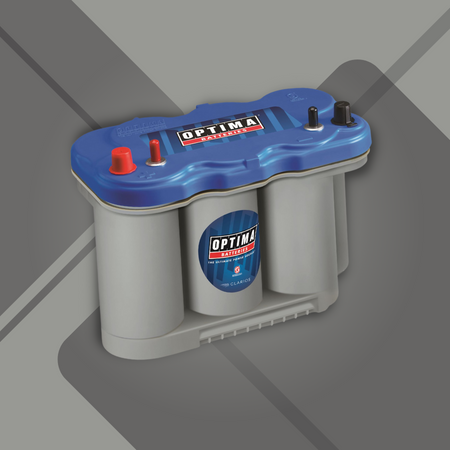 This battery is designed for use as both a starting battery as well as a deep-cycle battery. Ideal uses include marine use and large RV's where there are many accessories running as well. With the Optima Starting and Deep Cycle Battery, you will be able to start your vehicle in even harsh weather conditions and still have the convenience of a constant power source. It can be mounted in any position needed because it will resist shock and vibration fifteen times more than similar models.
The terminals are screw-in type and come with safety covers. The battery weighs around 43lbs. which is moderate and measures 6.88 x 10 x 7.8 inches—surprisingly small for a battery with this capacity. It promises up to five times more recharges than most other batteries.
10. Interstate Batteries Sealed Lead Acid (AGM) Deep Cycle Battery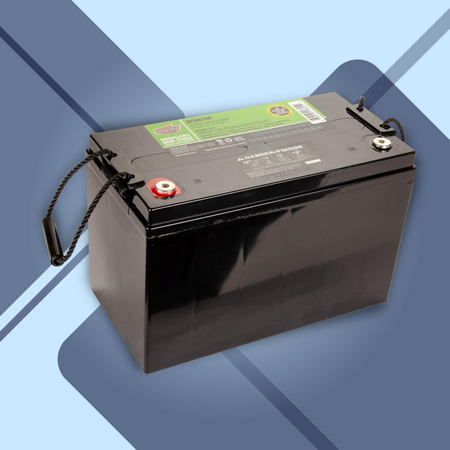 This average-size AGM deep cycle battery made by Interstate Batteries is a reliable power option for things like lawn tools and equipment, medical devices, lighting systems and more. It weighs around 23lbs. and measures 7.7 x 5.2 x 6.3 inches which means it will fit well into most dedicated spaces.
The carrying handle built-in to the top makes it easy to transport around as needed. These batteries are quick to charge and have an amp hour rating of 35Ah which means about 15 to 17 hours of usage.
What is a Deep Cycle Battery?
A deep cycle battery is one that is meant to use up all its power in one use, only to be charged up and used again on another occasion. This differs greatly from a starter battery as you would find in automotive vehicles. A starter battery gives out short bursts of power, like upon starting a car and do not use its entire power supply in one use. You may use a deep cycle battery for things such as:
Recreational Vehicles
Large boats and ships
Generators
Golf Carts
Forklift trucks
Traffic signals
Uninterrupted power supplies
How to Choose a Deep Cycle Battery?
When you are looking for a deep-cycle battery, it is important to consider a few key factors which will affect the one you eventually choose. These features and characteristics are of importance to ensure you are choosing the right one for your usage and the size needed.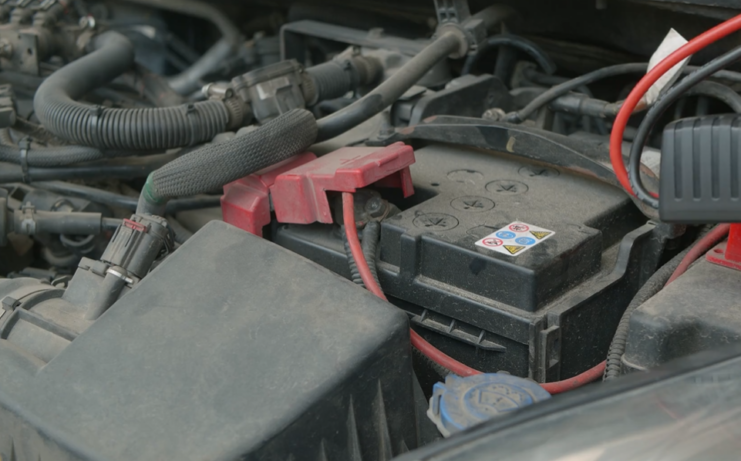 Hours of Use/Amp Hours
When shopping for the right deep-cycle battery to suit your needs, you should consider how long the battery will give you the energy you need before requiring a charge. For larger capacity uses, such as recreational vehicles, you will need something that will last for some time preferably in case you do not have access to electricity for charging.
Life of the Battery
A deep cycle battery is meant to be discharged of it's stored energy over time and then charged again for future use. The life of the battery refers to how many life cycles the battery promises to you as the user. If you anticipate requiring heavy use from your deep cycle battery, on a frequent basis, you will want to look for a battery with a higher number of life cycles.
Size and Weight
For obvious reasons you will want to select a battery that will fit the application, you intend to use it for. Some are much larger than others and obviously weigh more as well. If you have a battery that is too heavy, it could add unnecessary weight to your vehicle (like a boat or golf cart) and change the ability of the vehicle to function properly. It is important to check your owner's manuals or instructions for the item you want to power up, to see what the manufacturer's recommendation is for battery size.
Charge Time
Charge time could mean the difference between you having heat or air conditioning for a few hours or not. It is key to check how long the manufacturer states that the battery takes to charge once it is discharged. It would be helpful if the battery you choose has built-in protection against overcharging which could cause damage.
Volts
Every battery, whether deep cycle or starter, has a voltage rating. The volts will tell a little about the power output available or even left on the battery. This measurement can also help you choose the correct battery for your use since you may need a battery with a higher voltage for bigger jobs.
Type of Deep Cycle Battery
Within the deep cycle family, there are three types to choose from Sealed Lead Acid Batteries, Flooded Lead Acid Batteries, Gel Batteries and, Lithium-Ion Batteries.
Sealed Lead Acid Batteries
These are common among deep cycle batteries available. They are also known as Valve Regulated Lead Acid batteries. This type of battery is mostly sealed off from all air and the pressure is regulated by a valve. In these types of batteries, nitrogen and oxygen are used to create electricity. They are usually more affordable than other types of deep cycle batteries and can store a very large capacity of energy.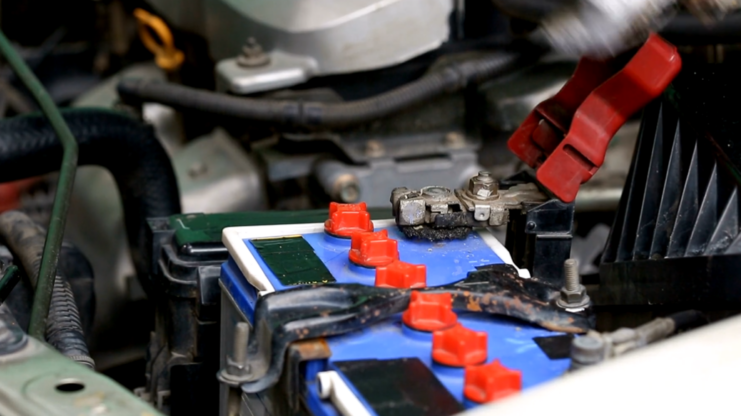 Flooded Lead Acid Batteries
Simply stated, these are unsealed batteries and they are filled up with distilled water and acid. These types of batteries will require more maintenance than others since the water may need topping up from time to time.
It is important to monitor the levels to get the most energy output possible from the battery. FLA batteries are very affordable, and the maintenance is straightforward for those who may not understand the workings of deep-cycle batteries.
Gel Batteries
These types of batteries are a newer technology in terms of deep-cycle batteries. They can be positioned however you need and have a slower discharge rate, meaning they will last longer. They are a little more expensive than other types, however. It is important to note that maintenance of this type is required to be done usually by a professional. Gel will need to be topped up, but it is not a job for you to do safely yourself.
Lithium-Ion Batteries
Of all the types of deep cycle batteries, these are the newest technology. They can withstand extreme temperatures, pressure and vibrations. They are the most lightweight style of all available and boast the best energy storage as well as output. They are, however, the more expensive type of battery and not always readily available.
Charging and Deep Cycle Battery Maintenance
When you are purchasing a deep cycle battery, it is important to be aware that you will need to charge the battery eventually since it is not meant to last forever and not all deep cycle batteries are created equally. You will need to learn about charging your battery properly and how to best maintain your battery to get the most shelf life out of it as possible. Read more: Top 10 best solar lights
In the Beginning…
When you first bring home your deep cycle battery, for whatever your intended use, it is a good idea to only cycle the battery lightly the first few times. This means only use about 20% of its capacity and then re-charge to full again. This is said to help complete the process of forming the plates in the battery. By doing this, you will help extend the life of your battery.
Charging
When you are charging a deep cycle battery there are some important points to know and remember to do so properly, and safely and to ensure you don't destroy the battery you have just purchased. Often people make errors in charging the battery which compromises the life span and then immediately blames the manufacturer. These key points will guide you in the process of charging your deep-cycle battery properly and safely.
The battery will be warm/hot after charging. Allow it to cool before re-installing and using so the heat does not continue and possibly create corrosion
Ensure the type of charger you are using matches the type of battery you are charging (i.e. don't charge a wet cell battery with a sealed charger and vice versa)
Quick short charging times only reduce the overall life of your battery; try to only charge once a day
You should "boost" charge any deep cycle battery which has been sitting idle for an extended period
Choose the right charger for your battery. According to batterystuff.com, "To calculate your total charge time, a good rule of thumb is to take the amp hour rating of the battery and divide by the charger rating (amps) and then add about 10% for the extra time to totally top off the battery."
Low-current chargers are good for things that might need charging over an extended time frame like cars or motorcycles in storage
High current chargers will give a more immediate charge for things like wheelchairs, trolling motors and lawn tractors
Different types of chargers include: waterproof—great for marine use and power optional chargers which act as power supplies as well as chargers—great for RV'ing
When charging, your battery should be disconnected and in a well-vented area
Slow charging is best for deep cycle batteries; set your charger to trickle charge and select the correct voltage of your battery
When connecting the cables to charge, always connect positive to positive first
Overcharging can raise the risk of the explosion of your battery
Maintaining a Deep Cycle Battery
Many deep-cycle batteries claim to be maintenance-free, which for the most part is true. However, you should still check in and ensure your battery is running at it's top performance. If you have an AGM, sealed battery, you can still check in on the fluid levels by popping the cap off (while wearing protective eyewear and gloves!) to have a look. If fluids are below the plates, simply add distilled water. This goes for other types as well.
Another key point in maintaining your deep cycle battery is to make sure the terminals are clean and free of rust or corrosion. This could affect the quality of charge you get and thus affect the shelf life of your battery.
When your battery is not in use, it is a good idea to give it a charge every 30 days to keep your voltage up and alive. Most deep-cycle batteries will lose some power over time when sitting unused. If you do want to put your battery into storage, always store it in a fully charged state as opposed to discharge.
It could mean you won't be able to charge it again if it sits discharged for too long. An older battery will have different maintenance needs compared to a newer battery, even if they are the same brand. This means it will probably take longer to charge the battery and that fluid levels will drop more rapidly. Monitor fluid levels in older batteries more carefully.
In Conclusion…
When you start looking for a deep cycle battery, for whatever your needs, it is important to do your research. There are so many options available to you, but you will want to match the exact battery to your intended purpose.
You cannot always base your decision on price point either, since different batteries will power up various items. If you want to get the proper power for your device or equipment, you will need to match the output of power in the battery to your needs.
Be prepared and have a charger for your new battery as well, to ensure you are not without power. Our top pick for the job is the Vmaxtanks Vmaxslr125 AGM Deep Cycle 12v 125ah SLA rechargeable Battery with its 125Ah rating and super fast charging time. This battery will give you hours and hours of use before needing to be charged and promises many cycles of use overall. You can use it for both light-duty and heavy-duty uses.
Hopefully, this buying guide for deep-cycle batteries has been helpful and informative. Please leave any comments or questions you may have, we love to hear your feedback, as always.