Just like a good battery makes your car very reliable for everyday use, a very good trolling motor battery would go a long way to ensuring you have a very exciting and relaxing boating or kayaking experience. A good trolling motor battery should offer you so much without having to increase the stress of regular maintenance because this is the best way of assuring yourself of being at your highest potential and maximizing your experience while on board.
Choosing the best trolling motor battery could be really challenging since there are numerous brands of trolling motor batteries on the market, and all of these brands continue to churn out new models each year. However, the process of choosing the best trolling motor battery for you starts by considering some key factors, which we discuss below. Alongside these, we will also review our picks for the best trolling motor batteries on the market. Let's go!
Reviews of the Best Trolling Motor Batteries
Based on features, performance, and ratings, below are our picks for the best trolling motor batteries on the market.
1. Our Top Pick: Mighty Max Battery 12V 55Ah Motor Battery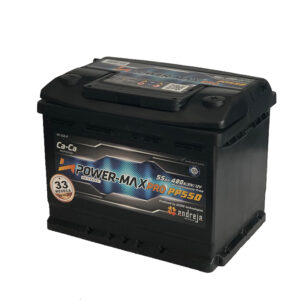 The Mighty Max 55Ah AGM battery could transform your boat speed from having to drag along waterways to being at consistent top speed without having to worry that you may suffer a quicker flat battery in the process. Just imagine the amount of time getting this battery can afford you alongside with the peace of mind that comes with it?
Most batteries wouldn't give you the speed consistency of up to six hours the way this amazing 55AH motor battery would and it would almost be a miraculous transformation if you upgrade your 35AH battery in a 30-lb thrust trolling motor into a 55Ah battery.
It is almost like Mighty Max Battery 12v 55AH motor battery prepared for most concerns and worries of customers particularly in the aspect of size and weight. It is a general conception that with greater power comes to an increase in size and weight which sometimes the water vessels the battery is needed for might not be able to handle.
Fortunately, this brand already has this in consideration. It is only about nine inches high and about five and a half inches wide. However, if the height is a major problem, you can always set it up by the side of the trolling motor and you wouldn't have to worry about anything as the battery is spill-proof.
This battery also weighs about fourteen pounds more than a regular 35Ah battery which is needed in order to offer you about seventy percent extra in efficiency over the 35AH regular battery. You can use this battery in both low and high temperature. The general weight of this battery is 38.6 pounds and this weight comes with a complete deal which includes shock resistance. You don't also have to worry about maintenance.
Pros
Higher average time on the water.
Set up options at any angle.
Lightweight.
Shock and vibration resistant.
Works perfectly in all temperatures.
Cons
Takes as long as thirty hours to get fully charged using trickle mode.
2. VMAXTANKS AGM Battery 12 Volt 35AH Marine Deep Cycle HI Performance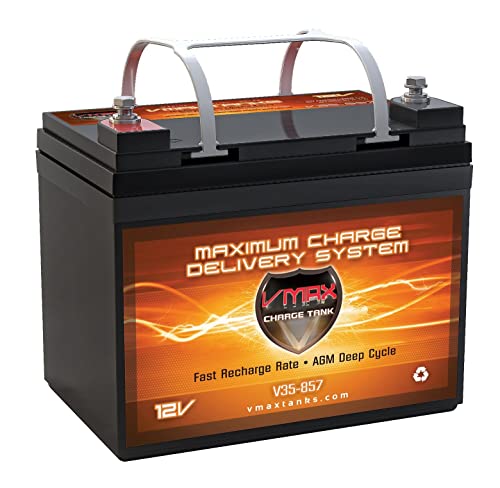 If your choice is to buy a battery that does what other regular batteries don't do, then you might want to consider this VMax battery. Often regarded as the best trolling motor battery around, there is yet to be another 35Ah battery that does so much than other 35 Ah batteries would ever dream of doing. This battery is what could be called first amongst peers and second to none. It is a more durable and long-lasting 35Ah battery than any other regular 35Ah battery that comes with better vibration resistance and stronger finishing.
It comes in military-grade metal plates coated with an extra-strong ABS plastic finish all designed for use in thrust trolling motors that are between eighteen to forty pounds in general weight. It is ideal for smaller boats and other small-size water vessels basically because it has a dimension of 7.7 inches in length by 5 inches in width and just 6.1 in height. It can perform to up to five hours at low speed.
Going through several reviews, you would find that when it comes to versatility, this battery is on the front chart as it is a perfect green backup power alternative and has an excellent reserve capacity for regular generators. It is powerful enough to power laptops, cameras, televisions and DVD players at home and in camps.
All of these things come with no external maintenance requirements and can also be set up at any angle. It's just about the right deal if you want a lightweight, small size and very durable and versatile battery.
Pros
High-performance time at low speed
Lightweight
Small sized
Spill-proofed and vibration resistant
Versatile and very durable
kIt's very durable
No need for regular maintenance.
Cons
VMAX BC1204 12V 3.3Amp charger needed for best result
Restrictive when used in campsites
Expensive when compared with other brands.
3. Universal Power Group 12V 100Ah Battery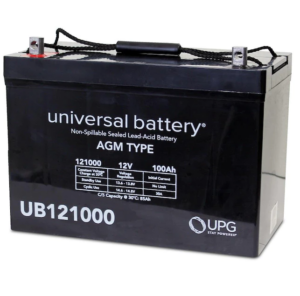 With its 100Ah capacity, it is evidently the most ideal for a long trolling expedition. However, it is kind of heavy as it weighs 63.93 in total weight and 9.6 inches in height. It comes with almost standard vibration resistance and spill-proof protection and is very effective in deep cycle and dual applications. The most impressive thing about this battery is that even at 100Ah, it still charges very fast at about forty percent lesser than what it would take other batteries to get fully charged and last incredibly long.
Although it is 63.93 lb in weight which means it is somewhat heavy, it has a lot of compensatory advantage which includes an impressive warranty and about five years of replacement duration. The weight, however, is responsible for making the battery best used in elevated places.
Pros
Last long
shocks and vibrations resistance
Impressive running power
4. VMAX MR127 12 Volt 100Ah AGM Deep Cycle Battery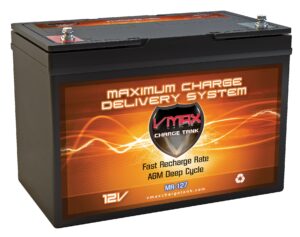 If you are not considering using the regular 30-pound thrust motor and you are looking at a better battery that could power 40 and even 55 pounds of thrust trolling motor effectively, then this brand of battery is your real deal. Fortunately, it is also of the 100Ah range and it has the potential of giving you up to seven hours of medium speed on waterways and in case you are not in for speed but wouldn't mind spending long hours ding your best-loved activities on your 40 pounds thrusting trolling motor powered vessel, this battery would provide you even up to twelve hours of power on low speed.
At top speed, this battery at its full 100Ah potential would give you more than two hours of power. Although, this battery is not designed as a starter battery it sure would get you going in such a way that would be constantly amazed.  Using the battery to power a 55 pounds thrusting trolling machine, however, rest assured to still get an unmatched eight and half hours at low speed, five hours at medium speed and exactly one hour forty minutes on top speed.
The only disadvantage is the size and weight so far with a general weight of 68 pounds which might not be something most people might be willing to deal with. However, this battery offers a lot of side goodies such as providing interesting charging alternatives such as vehicle alternators, wind turbines, and even solar panels. It is also spill-proof and requires no maintenance at all.
Pros
Long-lasting power.
Impressive durability.
Ultra-fast charging.
Cons
Heavy and expensive unlike regular batteries.
Power OffPower kits required for effective performance
5. Optima Batteries 8016-103 D34M Deep Cycle Marine Battery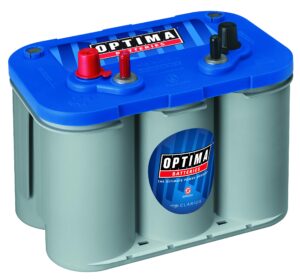 This battery is a very reliable starting battery with a dual purpose attribute with powerful 12 volts power that would put anyone who needs a strong battery on a right track. You don't have to carry out any regular maintenance on it and with its strong cranking amps, your trolling motor cannot be suffering regular power outages anymore, not even when the weather is at its harshest.
It is not so heavy as it has just about 48 pounds in general weight and a 10x7x8 inches dimension, making it quite portable and easily transportable. This is not the best news yet, the best news as far as this brand is concerned is that the battery has 750A cold cranking amps and an amazing 870A marine cranking amps. Charging is also quite fast and as such, a fully charged battery would give you an internal resistance of up to 0.0028 ohms.
This marine battery has a durable covering that will ensure a longer shelf life as well as a very impressive reserve capacity you need for everyday use. These features combined make it the best Optima battery for trolling motors.
Pros
A good starting battery.
Fast charging.
Recharging cycles is up to a thousand.
Easily set up at any angle and is spill-proof.
Needs no maintenance.
With the right charger, you don't need to worry about overcharging.
Cons
Overcharging often occurs when charged with the wrong charger.
The set of instructions needed to execute the right charging might be stressful.
6. Mighty Max Battery 12V 35AH SLA Battery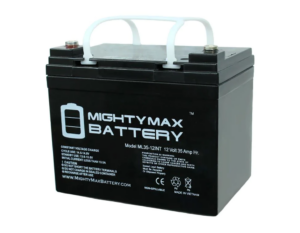 If you are looking for a battery in the range of 12V 25AH battery that comes really inexpensive and compact, then Mighty Max Battery is exactly what you are looking for. It offers a little more than other regular 35Ah batteries and with a general 23.15 pounds and a bit over seven inches in general height, you can rest assured you don't have any big battery to worry about.
It last long and can work even in the most adverse of temperatures, it is also spill-proofed against water and you are protected against any chemical leakage and gas emissions. It is also mountable on any angle and shock resistant. It also doesn't need any absurd periodic maintenance.
Using this brand in a 30-pound thrust trolling motor would give you a minimum of three hours of very enjoyable service at medium speed and at top speed, you can go for a little less than an hour before there would be a need to recharge. This battery is a real deal if you are looking for a battery that is a little bit above regular and that is very affordable at the same time. It is one of the best cheap trolling motor batteries on the market.
Pros
1-year warranty and a thirty days return policy.
Long-lasting with a total duration of 12 hours before charging.
Resistant to spill, shocks, and vibrations
Needs no maintenance
Cons
A little bit heavy compared to regular 35AH batteries
7. Odyssey 34M-PC1500ST Dual Purpose Battery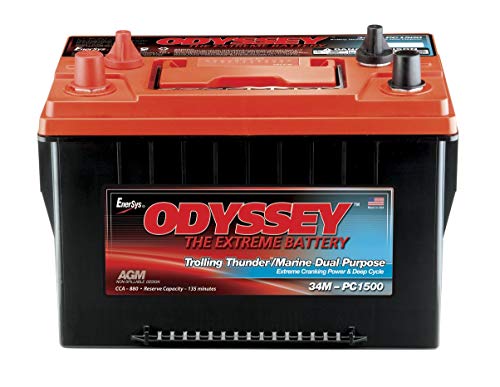 You know a battery is completely the real deal when the Department of Transport itself approves it for being completely spill-proof. Aside from being completely spill-proof, this battery offers you a four years warranty and an operational lifespan of up to ten years.
This wouldn't be possible but for the cold cranking amps of 880 then comes at a very low operating cost and entirely free maintenance cost. You don't have to waste your time checking the level of the battery or the time-consuming corrosion prevention. You are absolutely covered.
You are not only covered when the temperature is right but you are also covered when the temperature is not as this battery offers complete protection even in extreme temperature ranging from between -40 to up to 176 degrees Fahrenheit.
Of course, you don't have to do away with other benefits as it also has shock and vibration resistance that puts your battery in a ready position for versatile purposes. No wonder it has the name Odyssey, this battery would go with you on the roughest of voyages and most tempestuous of journeys.
Pros
Long-lasting and has great running power.
Shocks and vibrations resistant.
Can be set up in any longer.
8. Waterblade Lithium Battery For 12v Electric trolling motor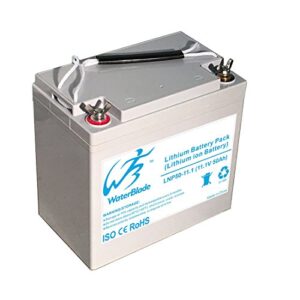 This brand is one of the few lithium-ion-based batteries for trolling motors. The most remarkable thing about this lithium-ion-based battery is the weight advantage it has over other SLA batteries. The Waterblade Lithium Battery, for instance, weighs just 10 pounds but has the power of a 50AH battery. Isn't that wonderful?
If you are always conscious about battery weights, then rest assured that only very few other batteries could beat this particular brand as far as weight is concerned. Its dimension is just 5.5 by 9,0 by 8.5 (LWH). Big in size but light in weight. Current-wise, be rest assured that you would have a maximum continuous 70A discharge current. This battery is also protected against overheating, explosion spills and so on.
Pros
Lightweight
Fast charging.
Better than acid battery
Very powerful to no shortcomings.
Things to Consider When Buying a Trolling Motor Battery
When it comes to selecting the best trolling motor battery, there are a few things you will want to consider. Below are the things you need to look out for when selecting your trolling battery.
Battery Type
There are two types of 12-volt deep-cycle batteries that are recommended for trolling motors: Lead Acid Wet-Cell & AGM Batteries. Deep-cycling batteries are made for discharging smaller amounts of current over a longer period of time and for more recurrent recharging.
Lead Acid Wet-Cell Batteries – These are very common and the most affordable option. This deep cycling, heavy duty and rechargeable battery handle the frequent draining and recharging related to using trolling motors. Generally, this heavy-duty battery can last up to two and a half years. Known disadvantages of the lead-acid battery are the occasional maintenance of topping off the battery's distilled water.  The wet cell battery is also prone to spillage and vibration.
AGM Batteries –  AGM stands for Absorbed Glass Mat. AGM Batteries have a longer life span, the charge lasts longer and is sealed lead batteries. The lifespan of an AGM deep cycle battery can be up to four years which is a long time for this type of battery. These batteries may cost twice as much as lead acid wet-cell batteries thus it may not be an option if you're on a tight budget. The price, however, will make up for its performance and longevity. And since these batteries are spill-proof, it's 100% maintenance-free.
Size
Having very big batteries does not necessarily mean the battery has the capacity to last longer. Sometimes, capacity is not best determined by sizes and as such, in determining what battery to get for your trolling motor, you need to determine the type of water vessel you need it for. Smaller boats and kayaks don't need to be weighed down by the excess weight of a large battery.
Hence, in considering which battery is the best trolling motor battery to go for, the weight of the battery is of utmost importance. It is good to consider a battery weighing less than forty pounds for smaller fishing boats or kayaks. Some brands would have already done a good job of indicating group sizes on their packages all you have to do is to make sure you take note.
Convenience and Ease of Use.
How is easy to use is the battery you have in mind? Don't be deceived by sugar-coated advertisements. If any battery brand is offering you nothing less than a battery that requires a simple process of charge and use, then please abstain from buying. Sugar-coated promises in form incurring inconveniences such as performing regular maintenance on the battery can mean but just one thing which is that the battery is not good for your use.
Trolling motor is a basic and very simple machine that is easy to use and as such, the battery needed to power it must be very easy to install without having to worry about malfunctioning as a result of improper installation or spilling and also without having to incur the extra cost of hiring a professional to help you install.
Versatility
You may say you need your battery just for your trolling motor but would it be a bad idea if your battery is versatile enough to be used for other machines that may be of benefit to you? Considering how versatile your trolling motor battery could be might not be a bad idea, after all, in fact, it should be something you should look out for as an added advantage in any battery brand. Versatility is a good way of self-vouching for the reliability and long-lasting nature of a battery.
While some batteries are created just for trolling motors alone, others are versatile enough to help you in powering other onboard gadgets as well as other machines such as scooters, RVs, jet skis and even motorcycles.
Vibration Resistance and Durability
You know all those vibrations you feel while kayaking, going fishing or on a boat cruise? Well, they have a very negative effect on your battery. This negative effect ranges from making your battery not charge properly to deadening your battery into not charging at all. In some extreme cases, batteries could start experiencing short-circuit as a result of these vibrations.
Consequent upon these effects, it is best that you make sure the battery you are going for is vibration-resistant or shock resistant to avoid damage. It is also an advantage to make sure the battery is well-sealed and spill-proof. These two things to look out for would position your battery for a very productive durability
Warranty
The longer the time range of the warranty, the better the chances your battery is reliable. No manufacturer wants customers to return items back to them very often and as such, for them to place a long period of warranties on a machine means they meant it from the outset. Go for a battery with a favorable warranty that is matched with a good review of course.
Good reviews help you to better determine the average lifespan of the battery and help you decide whether the warranty on the product is worth placing your hopes on.
How to Install a Trolling Motor Battery?
Installing a trolling motor battery is very similar to installing a new battery in your car. It is very simple and uncomplicated. Aside from taking out the old battery and getting yourself a very good marine trolling motor battery, there are also some other things you would have to put into consideration and you are good to go.
Make sure you take time to study the user's manual or instructions of the battery brand you want to install. There is very vital information that might contribute to how long the battery is going to last and as such, should you ignore to take the necessary steps in complying with the instruction, the battery might end up being a disaster.
Try to take time to study the battery wiring diagram of your boat, kayak or whatever water vessel you want to use the battery to power. Boats and trolling machines don't have the same wiring systems and circuit breakers. For the best installation, you would have to put the unique wiring system of your boat into consideration. Thus, you need to make sure you have the appropriate wire size. Battery wires range from two to six gauges and you can often make recourse to the manual if you are confused.
Strap batteries well to secure them in place. This is essential to make sure your battery doesn't move here and there when you are at speed. While some trolling motors have battery compartments, some powerful batteries might have to be installed externally and as such, securing them in a battery box would be a good idea.
Once you have securely strapped the battery, you need to hook it up. Hooking up requires fixing up the appropriate wires. Some wires are marked while some aren't. in the case of marked cables, they should be hooked according to their makings but if not, the black cable which is also the neutral cable should be connected to the black-colored port then the positive cable should be hooked. This is essential to prevent spark-ups while hooking up the positive cable.
Final Review of the Best Trolling Motor Battery
It is always easy to ignore your choice of battery when you are on a boat, and some individuals have the erroneous belief that all trolling motor batteries are the same. However, it requires only a single time to get sucked on a boat cruise before you would realize that your choice of battery is extremely vital and that you need to find only the best trolling motor battery.
We highly recommend our top pick, the Mighty Max Battery 12V 55Ah Motor Battery. With its incredible power, shock and vibration resistance, lightweight nature, and its ability to work perfectly in all temperatures, this battery from Mighty Max might just be the best trolling motor battery for your needs.