Poor lighting is a problem no one likes to face while working in their personal garage. Of course, most garages don't have windows, and those that even have some openings will have insufficient light for nighttime tasks.
Therefore, one of the best ways to improve your garage and make it ready for use at night time is by installing the Best LED Garage Lights. These lights will allow you to see the important details when fixing your car or working on a new project. Overall, installing the best garage lighting will improve your overall productivity
So are you in search of some great garage lights and you are unsure of which one to opt for? Or you are looking for a guide that will help you buy the best lights for your garage? Luckily, you have come to the right place.
In this article, we will be taking you on a journey into the world of LED garage lights, where we will review the best models, and also give you some tips that will be useful when making your purchase.
Top Picks and Reviews for Best LED Garage Lights
With so many manufacturers making different kinds of LED garage lights, the options are limitless. However, not all these offers perform soberly, and that's why we will be providing reviews of the best-LED garage lights on the market below.
1. Hyperikon HyperSelect LED Shop Light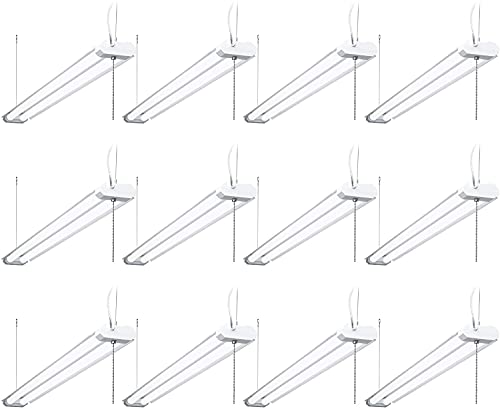 Hyperikon is probably the biggest company in the production of LED lights and they have shown why they are number one with the HyperSelect LED Shop Light. Despite being very affordable, this light provides a lot of lighting. Both lights come with two strips of LED bulbs each, with 3,800 lumens brightness in total, which is quite impressive when compared to other models in its price range.
Furthermore, the hanging system of this light is very unique. It makes use of a wire suspension instead of a chain-hanging system, which is often seen in other models. Although some buyers found the installation of this system easy, some others had problems setting the suspension cord up. Either way, the cord offers a lot of flexibility and allows you to adjust the hanging heights however you want.
However, despite how good this light is, it has two big flaws which might change the minds of prospective buyers about it. First of all, you can't connect the lights together in a series, which is quite not taken well by many people. Also, instead of being controlled by a pull cord that hangs from the light, the light's on-off knob is in line with the power cord. This consequence of this is that it will be difficult to get to the on-off switch in the event that the power cord is run high along a tall wall or along with a high ceiling, except you hard-wire the lights into a close circuit.
Pros
Very affordable
Suspension system is highly adjustable
Bright LEDs with 45,000-hour life
Cons
Somewhat awkward hanging system
Multiple lights can't be connected in series
On-off switch is in line with the power cord
2. HoneyBay Linkable LED Utility Shop Light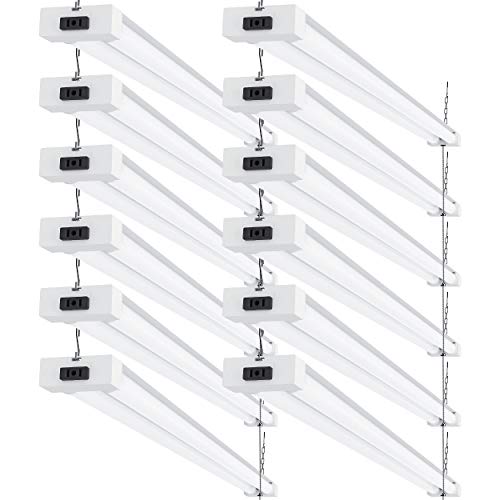 Generating 4,800 lumens in total brightness, the Linkable light from HoneyBay is one of the best garage lights on this rundown. This can be awesome if your workspace is especially dark, however, make sure that the light will be adequately high overhead to prevent a damaging glare. Nonetheless, that additional brilliance comes at a noteworthy cost – the life expectancy of this light is just 25,000 hours, and at a cost that is higher than numerous practically identical lights, the lifetime consumption on this model might be more than twofold a 4,000-lumen light.
One component of this light numerous clients acknowledged was the simple mount system. There are two ways to install the light; you either hang it on an adjustable chain or mount flush to the ceiling, and you can easily interchange the straightforward screw-in system between the two methods. Notwithstanding, the chains are of low quality and sadly have flopped in specific cases, so it might be advantageous to purchase an inexpensive chain to hang the lights on.
Another pleasant element of this light, particularly for individuals with expansive warehouses or garages to light, is that this light comes with AC inputs that allow you to connect multiple lights in a series. In fact, you can connect as many as 20 lights in series, either closely flush to each other or 40 inches apart. Note that the power cord is 40 inches long.
Pros
ETL and DLC certifications
Multiple lights can be connected in series
Very lightweight
Incorporated bulbs
Easy installation
Cons
The pull chain is short
The hanger bracket isn't sufficiently strong
3. Hyperikon Double-Fixture Shop Light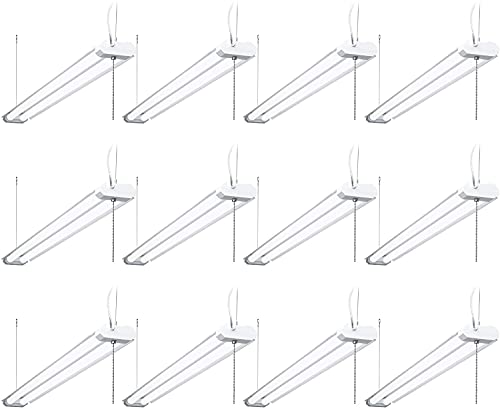 On the off chance that you have never heard of the name, Hyperikon is ostensibly the most reliable supplier of LED lighting products. Apart from the fact that they have many energy certifications, their products are also used by some big companies such as Google, Verizon, Lockheed Martin, Boeing, and more. They're 100 percent based in the US, and they provide the best level of quality and client benefit– we believe that is vital to say, in light of the fact that the organization behind the item is just as vital as the item itself.
The Hyperikon's double-fixture shop light is an ideal example of the dedication of the company to value and quality. The excellent LED globules put out an enormous 4,000 lumens in total brightness while they consume just 38 watts, giving an unbelievable brilliant light at a small amount of the energy use of other types of bulbs. For the purpose of comparison, this is comparable to a 100 watt bright light bulb when it comes to brightness, apart from the fact that it expends approximately 60 percent less energy (probably why they have the notable Energy Star certification).
However, these bulbs aren't just known for their energy usage and brightness. They additionally have a long life span of 45,000 hours. If we were to liken that to real-time utilization, that would be more than 10 years regardless of whether you use the lights an entire 12 hours daily, 365 days yearly. Since the vast majority don't run their lights as much as that, you can anticipate that these will last no less than 15-20 years before requiring replacement. What's more, the globules are accessible in three distinctive color temperatures (3000K, 4000K, and 5000K), enabling you to locate the ideal color for your garage or workspace.
Pros
Excellent design and quality
Very bright light
Versatile and simple mounting system
Easy to install for anyone
Has great color temperature
Cons
The light looks dimmer than expected
4. Hykolity 4ft 36 Watt LED Shop Light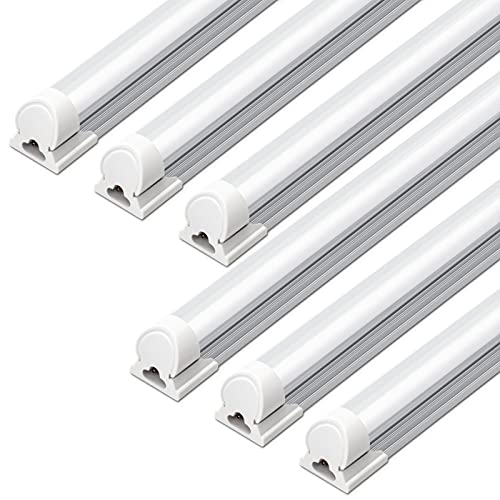 For those searching for more illumination than the regular 3,800 to 4,000-lumen light, this Hykolity model could be an ideal option. The light is like the HoneyBay Linkable LED Utility Shop Light, but at a lower cost per light when you purchase four lights and with twofold the life expectancy. Furthermore, on the grounds that the aggregate wattage is the same contrast with less brilliant LEDs, you won't likely see a raise in your power charge contrasted with dimmer light.
Furthermore, the light is built principally to be swung from the ceiling on a chain that is easy to install. Be that as it may, people hoping to mount the light directly into the wall or mount it flush to the ceiling will not find drilling screws into the fixture difficult at all.
The major complaint of clients is the poor packaging of the product from the producer, which is frequently low quality and somewhat damaged upon arrival. Numerous clients have gotten lights with bowed aluminum fixtures. Despite the fact that this is secured under the 5-year warranty, it brings about additional stress.
Pros
High 4,800 lumen brightness
The light is lightweight
Suitable plug on/off switch
Bright LEDs with 50,000-hour life
Cons
You are required to drill through the fixture for ceiling or wall mounting
Numerous cases lights being damaged on delivery
5. Hykolity 4ft 40W LED Wraparound Flushmount Ceiling Light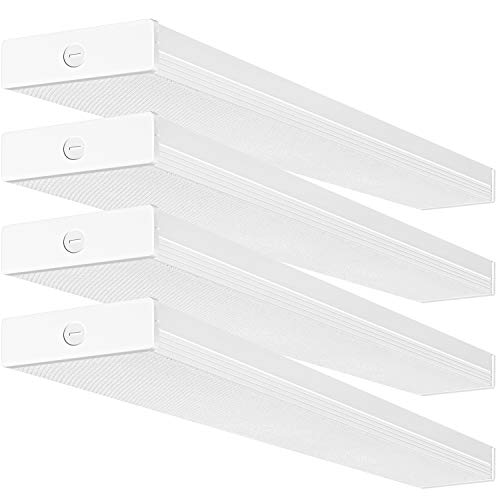 If you are looking for a maintenance-free and easy solution to your lighting needs in commercial and household applications, then the Hykolity 4ft LED Wraparound Flushmount Lights might be the option for you. This light from Hykolity is an incredible trade for your fluorescent-type fixtures and gives a cost-effective option.
This excellent light from HykolityLight is capable of producing a very bright light with 4,400 lumens so you can illuminate all the dark spots with no issue. The life expectancy of this light is long to the point that it can keep running no less than 50,000 hours, which means you can use the light easily for 17 years if you run it 8 hours every day, and you aren't required to replace it regularly like your other brand fluorescent or LED lights.
It is furthermore, the installation process of this light is easy as it can be fixed to garages, hallways, stairwells, offices, and all other locations where ambient light is required. You can install the light yourself and you don't any help from a professional, and all you need are the basic tools for installation. Besides, the LEDs are energy-saving consequently means you won't be getting much increase on your electricity bill.
Pros
The lights are very bright
Very lightweight
Easy to mount
Provide 50,000 hours life expectancy
Cons
Comes with no installation manual
6. Hyperikon LED High Bay Light Fixture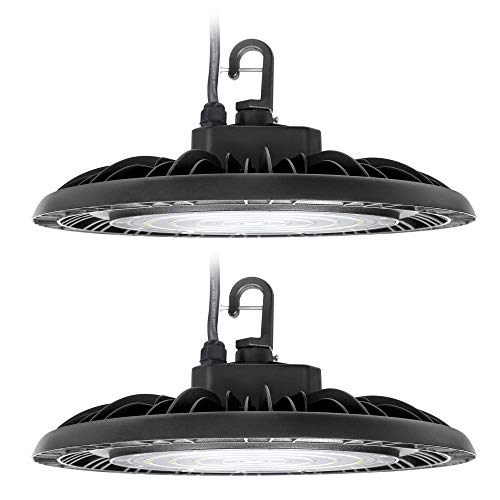 This is the latest fixture from Hyperikon, which is an excellent option for all sorts of indoor lighting. This model is one of the most outstanding high-end models with incredible performance. Featuring LED technology with first-rate diodes with 133 lumens for every watt, this light is incredibly bright and has great energy economization. Generally, this light comes with a long life expectancy and will definitely reduce your maintenance expenses.
In addition, this LED High Bay Light Fixture from Hyperikon is outfitted with a movement sensor, sufficiently advantageous to guarantee that each time you drive towards your garage, it illuminates. The motion sensor range is up to 80 ft and when they detect no motion, the light is automatically dimmed after two minutes.
The body of the light is made of lightweight and durable aluminum, which is really impressive. Also, this makes installation very easy; either with chain or normal wall mounting. Note that the chain is included in the package of the product, which is really great. Sadly, the LED bulbs are irreplaceable and they come with no plug end. In general, this product is highly recommended.
Pros
Hanging chains included
Very bright light
Energy saving
Comes with a motion sensor
checkDurable and lightweight
Easy to install
Cons
The switch has no plug end
Quite small to some users
7. AntLux 4ft LED Garage Shop Lights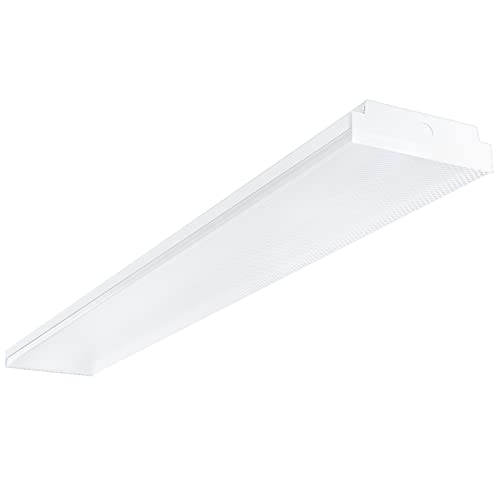 This specific model has a construction that guarantees incredibly bright lights with less power consumption. The light is damp rated, and you don't have to incur any expenses on maintenance. Also, the light has a decent life expectancy and it produces radiant white lights consistently. The top of the line LED lights expends just 40 watts of energy and have a 4000k daytime temperature. It comes with mounting brackets for installation, and a customer-supplied power cord. The hard wire fixture gives good protection to your lighting system. Unfortunately, the lamps in this fixture are not dimmable.
For installation, the light comes with mounting brackets and a power cord as well. The hardwire installation provides great protection to the whole lighting system. Sadly, the lamps aren't dimmable, which won't go down well with many people. Installing the light is easy. It can be mounted directly or hung using wires. Using a wire with at least a gauge for connection will be easier and quicker. Also, ensure you are cautious when doing the installation because the connectors may feel a bit insecure. This light provides good value for money and we totally recommend it.
Pros
Easy installation
The LEDs are very bright
Energy saving
Great customer service
Cons
Low quality construction
Some users encounter issues after few months of use
8. Striker Concepts 00342 TRiLIGHT 3000L Motion-Activated Ceiling Light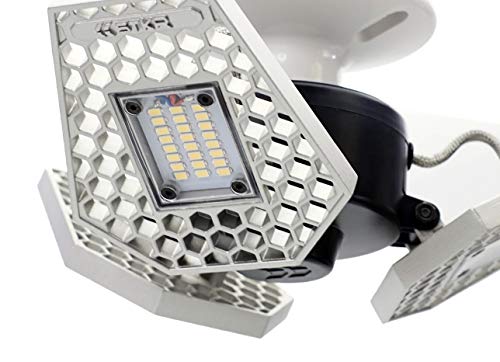 The Striker Concepts 00342 TRiLIGHT Motion Activated Ceiling Light is another versatile and easy-to-install light for outdoor and indoor lighting. You can use this light in basements garages, or other places where ambient light is required, either at work or at home. Also, this light produces 3000 lumens in total brightness while being very energy effective, with just 25 watts of energy consumption.
Furthermore, the lighting fixture comes with a motion sensor that turns the light on when a movement towards the room is detected or when you drive towards the garage at night. It automatically turns itself off when no motion is detected however, the motion sensor is optional, which allows it to turn it off if you don't fancy the motion-detecting feature.
Also, the installation process for this light is simple and all you need to do is screw it to your ceiling. You don't need to use hard wires and you don't need to hire a professional for the installation. With adjustable LED light, solid construction, bright lights, and a motion sensor feature, nobody would turn down the chance to own this light. However, the motion sensor can be a little too sensitive though and some users don't like it. But since it is optional, you can simply turn it off.
Pros
Motion sensor
Has a low wattage consumption
Solid built
Adjustable LED lights
Good value for money
DIY installation
Cons
The motion sensor is too sensitive
It isn't bright enough to some users
It is costly for a 3000lumen light
9. Hyperikon T8 T10 T12 LED Light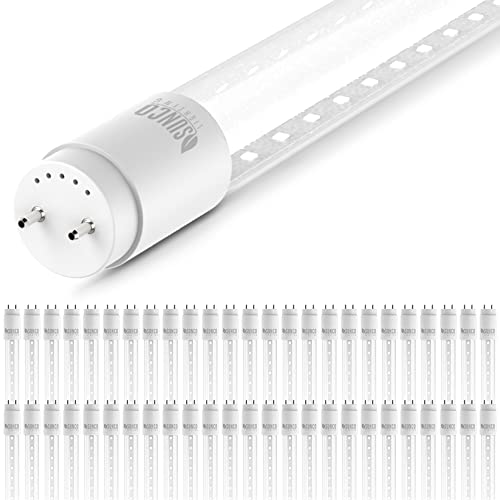 Also coming on the number one spot here is another product from Hyperikon, the biggest light manufacturing company in the world. The T8 T10 T12 LED light delivers matchless performance in commercial lighting. This tube light has T8, T10 and T12 fixtures compatibility and comes with non-shunted tombstones, which makes it easy to direct wire the tubes with a bypass installation.
Furthermore, this LED tubes come in different color temperatures and pack sizes, which allows for easy installation customization. Being -25°F to 140°F in temperature range, these LED lights are perfect for both outdoor and indoor applications. These LED tubes are just perfect for all sorts of utilization.
Furthermore, with a life expectancy of 45,000 hours, these LED tubes come with an exceptional life rating. Also, they are made of durable, shatterproof, aluminum alloy and epoxy resin. Depending on how you use them, these tubes can run for more than 20 years, greatly reducing maintenance cost and relamp frequency. These LED lights need a simple, energy-effective ballast direct wire installation.
Pros
Clear installation instructions
Very durable
Ideal for both outdoor and indoor applications
Made to last long
Bright light
Energy saving
10. Hyperikon T8 T10 T12 8ft LED Tube Light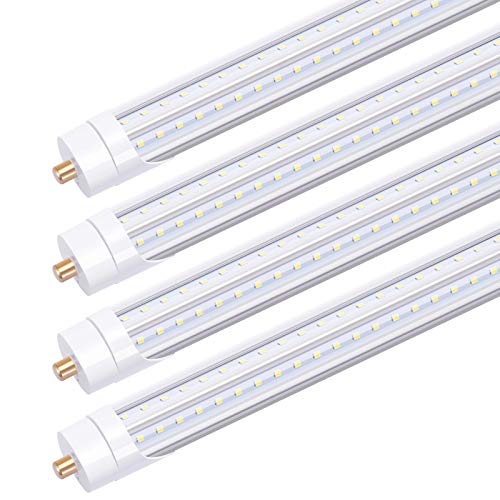 Light your garage up with these LED bulbs from Hyperikon! Replace your old tubes with these superb, bright, and efficient LED tubes and you will start seeing things in another light. These tube lights have an exceptional life expectancy of more than 45,000 hours, which means they can run for more than 20 years depending on often you turn them on. With this, you don't have to worry about maintenance costs and relamping frequency will be reduced.
These LED lights need a simple, energy-effective ballast direct wire installation. . The T8 T10 T12 LED light delivers matchless performance in commercial lighting. This tube light has T8, T10 and T12 fixtures compatibility and comes with non-shunted tombstones, which makes it easy to direct wire the tubes with a bypass installation.
Furthermore, this LED tubes come in different color temperatures and pack sizes, which allows for easy installation customization. Being -25°F to 140°F in temperature range, these LED lights are perfect for both outdoor and indoor applications. These LED tubes are just perfect for all sorts of utilization.
In addition, these LED tubes come with an unlimited 5-year warranty, which is impressive considering the warranty that comes with other LED tubes from other brands.
Pros
Very bright light
5 year warranty
Suitable for multiple usage
Energy saving
Great customer service
11. Sunco Lighting T8 FROSTED LED Tube Lamp Light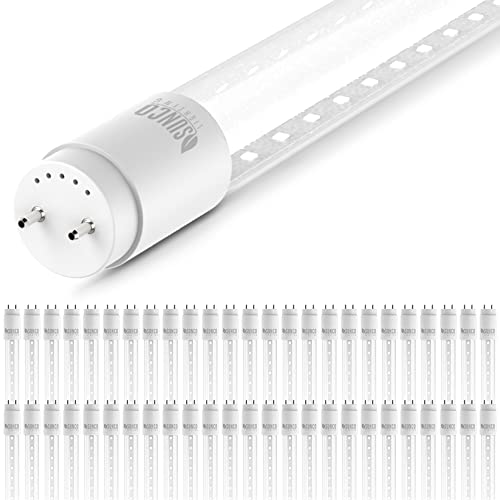 At the cost and quality, it is very difficult to beat these LED lights from Sunco. Producing 2,000 lumens of brightness, these lights are more than sufficient to illuminate most garages and workshops. Also, if you want to light up larger spaces with these lights, these light allows as much as four lights to be connected in series.  The LEDs do not have any glimmer when turning no matter the temperatures. In addition, these lights save energy by 50 percent compared to conventional fluorescent bulbs.
Probably the most impressive thing about these lights is its simple installation. While a few customers opined that the lightweight construction of the light made it feel flimsy, nobody will have any complaint about the installation. It comes with chain hangers that allow you to easily attach the light to the ceiling and allow for easy adjustment regarding how far down or up the light hangs. However, keep in mind that you will need to buy an extension cord as the plug-in cord that comes with the product is only 5 ft long.
Pros
Very affordable
Vivid 50,000-hour life LED
Very easy to set up
Reduces energy consumption by 50%
Things to Take Into Consideration Before Buying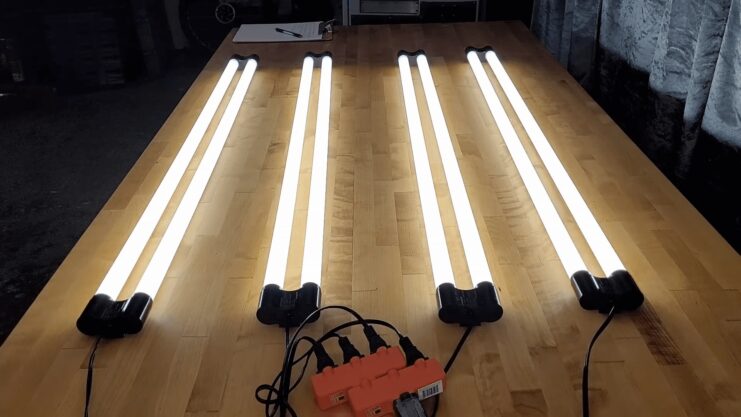 The fact is that there are many LED garage lights available on the market, therefore, before choosing the right LED lights for your garage, there are some factors you must take into consideration. Below are some of the factors you need to consider when buying a LED garage light.
Brightness
The general purpose of buying a garage LED light is to light the space up. This is the most critical factor. Generally, a bulb's brightness used to be measured by the number of watts it consumes. Then, if you were looking for bright bulbs, then you needed to choose those with higher watts. However, the case is slightly different nowadays, and the brightness of bulbs are now measured by the lumens.
In case you are wondering what lumens mean, lumens are the measurement of light output no matter the energy consumption. The brightest bulbs are always the brightness. There is no rock science. In general, a bulb with 3500 lumens should be sufficient for your garage. Apart from the lumens, also take the brand into consideration as some brands lie about the lumens.
Colour Temperature
The color temperature is another factor you need to take into consideration before buying your garage LED light. The light becomes warmer and yellower as the kelvin decreases, therefore, the lights that have higher color temperature are often preferred as they provide a more daytime feel.
Easy Installation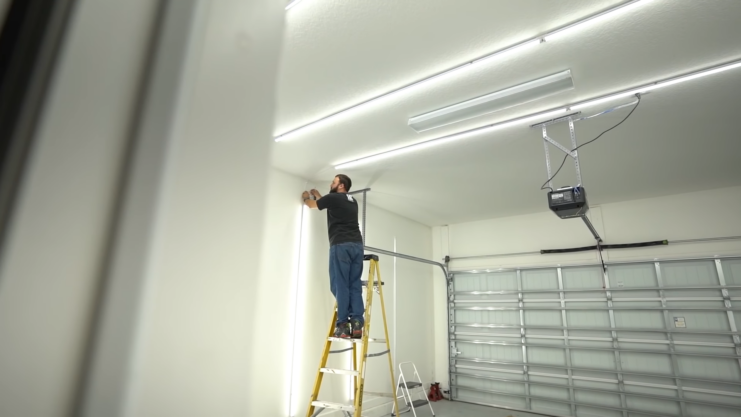 Another factor you need to take into consideration when buying your LED garage light is how easy the installation of the light is. A lot of LED lights you will find on the market are not easy to install, which causes great inconvenience and causes buyers to incur unnecessary expenses on hiring professionals. Ensure you purchase an easy-to-install LED light and a mode that is easy to install.
CRI
If you do color-sensitive projects like painting car parts in your garage, then you must take the CRI into consideration as it is a very important factor when doing color-sensitive jobs. Consider buying garage LED lights with CRI higher than 80. The greater the CRI, the better you will be able to differentiate between colors at night.
Lifespan
The life expectancy of a LED light is a very important consideration you must make when choosing the right light for your garage. Most garages LED lights come with a life expectancy of over 50,000 hours, which is around 20 years on normal usage. Logically, the best-LED lights are the ones with the longest lifespan, so you should keep that in mind so you would maximize your money.
Energy Efficiency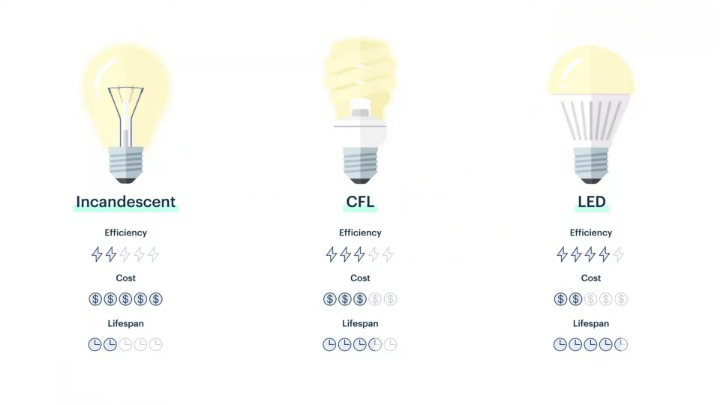 Apart from being good for the environment, energy-saving is good for the bank account as well. Normally, lighting contributes to the household electricity bills up to 15 to 20 percent, and you will see this number increase drastically if you spend more hours in your garage than normal. Apart from the fact that you will have the lights on most times, garage LEDs also guzzle more energy than the regular lamp, thanks to their gigantic size.
Therefore, we turned to LED lights for our top picks as a result of the energy consumption of normal garage bulbs. LED lights to consume around 60 percent less energy than regular types of lighting, and LEDs save energy without compromising on light output, which makes them the ideal option as far as energy efficiency is concerned. It would also be a plus if you could find a garage LED light with an Energy Star certification.
How to Install LED Garage lights?
1. Be sure to remove the fixture component and check that all the parts are included. There is no need to purchase extra lamps and mounting equipment. The LED light easily installs to the injection box by direct wiring. All can be suspended using the aircraft cables and power cords provided. The only tools you will need other than a ladder is a flat head and Philips head screwdriver, pliers, wire strippers, and a hammer. Be sure to also have your personal protective equipment before installing your LED light. Before installation, remember to turn off the power at the circuit box.
2. For direct wiring installation, position the mounting plate over the junction box and put the supply wires through the central holes. Be sure the screws already installed on the mounting plate are facing downward and are positioned to the correct fixture orientation. Secure the mounting plate using 1 and a half inch screws. Remove the diffuser from the housing by grasping the edge of the diffuser on one end of the housing.
3. Carefully squeeze the diffuser to release it from the housing, and then carefully disengage. To access the wire way, first, remove the central screws from the wire way cover. Compress the side of the wire way cover to disengage it from the fixture housing. Rotate the cover open to expose the wire way. On the back of the fixture, remove the 7/8 inch knockout at the center of the fixture by placing the straight plate screwdriver on the knockout and striking the screwdriver slightly with a hammer. Remove the slug by flexing back and forth until it comes.
4. Please be sure not to lay the fixture directly on the PIR center as it is fragile and can break. Lift the fixture to the ceiling and then insert the power lid to the open hole, position the housing over the two screws facing outwards on the mounting lid and secure. Locate the single green, black, and white fixture lids using wire strippers, and remove the insulin caps from each wire.
5. Connect the green wire to the bare copper wire in the junction wire, connect the black fixture wire with the black power supply wire and the white fixture wire to the white power supply wire. Reinstall the cover by rotating upward and snap back in place, and install the middle screws to secure it. Prior to installing the diffuser, adjust the time delay on the PIR center to your desired settings. The maximum delay time is 10 minutes and the minimum is 1 minute. To increase the amount of time the fixture is illuminated, rotate the knob with the plus symbol.
Our Top Picks
The illumination of your garage can make a difference in how many vital details you will be able to see and can also affect your overall productivity. Although all the garage LED lights reviewed here are excellent, we believe the most outstanding one is the Hyperikon HyperSelect LED Shop Light.
Despite having a unique hanging system, producing 3,800 lumens brightness, and having a lifespan of 45,000 hours, this product is also very affordable. We highly recommend it and we are sure any garage owner would appreciate its performance.
Also, when it comes to the best-LED garage bulbs, our top pick is the Hyperikon T8 T10 T12 LED Light. Made of durable, shatterproof materials, and having a lifespan of 45,000 hours, this light is made to last you for around 20 years. The light is compatible with T8, T10, and T12 fixtures and is very easy to install, and we totally recommend it to anyone looking to buy exceptional LED bulbs.