There is nothing more exciting and exhilarating than hitting the open road on a new adventure in your RV. Traveling by recreation vehicle, or RV, has become increasingly popular over the years as a way for many families to vacation together at an affordable price, as well as have the flexibility to move wherever they wish.
As an RV owner, you know that it is a passion more than just a hobby.
Top Picks and Reviews for the Best RV Generator
1. WEN 56200i Super Quiet 2000-Watt Portable Inverter Generator, CARB Compliant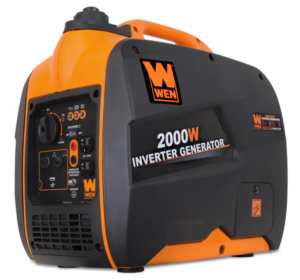 This handy portable generator works so quietly you might barely notice it is there at only 51 decibels. There are two prongs to plug in your items and you won't have to worry about power surges since this generator prevents that from happening. You can safely plug in your electronics including laptops, smartphones and tablets. The WEN portable inverter generator runs on gasoline.
If you wish to maximize your fuel use, you can use this generator in Eco-mode, which means it will limit the fuel consumption on its own thus enhancing fuel efficiency. With its lightweight design and carrying handle you can use this generator in more than just your RV—the beach, tent camping, hunting and more.
---
2. Westinghouse WGen7500 Portable Generator with Remote Electric Start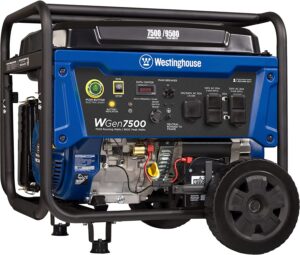 The Westinghouse 7500-watt portable generator offers great durability and comes with a FOB for remote starting. The 6.6-gallon fuel tank also includes a fuel gauge, so you can be sure not to run out of fuel while RV'ing. As well, this unit has a low oil shutdown, so you will not damage the generator by running it while low or out of oil.
With 7500 rated watts and 9500 surge watts, you could easily run a smaller RV for 10 hours at half load. The onboard battery charger with a power adapter is a handy feature. This is a gas-only fuel tank and uses oil as well.
---
3. Yamaha EF2000iSv2, Gas Powered Portable Inverter
With the trusted brand name of Yamaha, this portable inverter generator offers 1600 watts of rated output and 2000 watts at a maximum. The compact and lightweight design allows easy portability for a variety of uses, including camping or using a smaller RV.
The low oil indicator prevents damage from occurring by accidentally running it without oil and the fuel gauge allows you a quick glance at the levels. This generator operates about 51 decibels meaning it is quiet and less invasive than others. This smart machine will limit fuel consumption based on the power being used. It includes a 1.1-gallon fuel tank and will operate for about 10 hours at ¼ load.
---
4. Champion 4000-Watt RV Ready Digital Hybrid Open Frame Inverter with Quiet Technology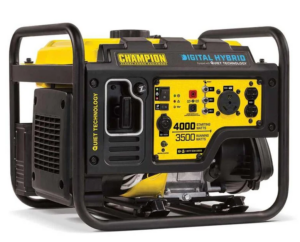 The open frame design of this generator allows easier access, weighs less than other models but still provides protection and durability with roll bar ends. You will get 4000 watts of starting power and 3500 running watts. The economy mode offered with this model will save you fuel and prevent less wear and tear on your engine, extending its life. You can get up to 17 hours of use depending upon load capacity used.
This unit is parallel-ready, meaning you can connect another generator of 2800 watts or higher to give yourself more power as needed. It is perfect for RV use since it has an RV ready outlet onboard.
---
5. Champion 3500-Watt RV-Ready Portable Generator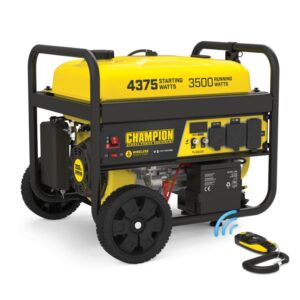 This unit is great for RV use and even has a specific outlet built-in for RV use. The voltage meter allows you to see your use at a glance and monitor as necessary. The Champion generator prevents overloads and is safe to run sensitive electronics such as tablets, phones and laptops. The quiet operation is less invasive than other models and still packs lots of power at a running wattage of 3500 and 4000 watts for starting.
The low oil shut-off sensor prevents the unit from operating on a dry oil tank and causing damage. On a full tank of gas, this unit will run for 12 hours at half load. If you enjoy RV'ing in all weather conditions, you won't have an issue starting this generator in the cold, since it is optimized for cold weather start-ups.
---
6. Honda EU2200i 2200-Watt 120-Volt Super Quiet Portable Inverter Generator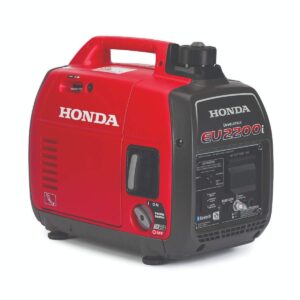 This lightweight, portable generator by Honda offers a lot of power for a smaller unit. The 2200 watts can operate for anywhere from 4 to 9 hours depending on load. It runs very quiet at about 48 decibels, which is quieter than an average conversation between two people.
If you require more power, you can connect an identical generator via parallel cables, sold separately. The fuel cut off switch allows you to run the unit dry for storage purposes and prevent stale gas. It is easy to use, with a simple pull start, and maintained with some simple regular maintenance. The onboard battery charger can be used alone or while powering something else.
---
7. Pulsar PG2000iS 2000W Peak 1600W Rated Portable Gas-Powered Inverter Generator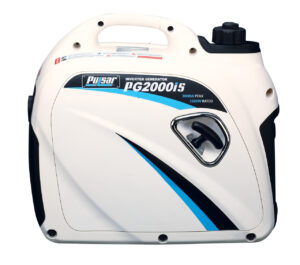 This compact, lightweight generator is ideal for small jobs but can be connected via parallel cables to another generator to combine power output. The rate 1600 watts runs at a peak of 2000 watts and can run for about 6 hours on half load. The plastic body is durable and portable. You can connect your USB-capable devices directly to the generator via a USB port built-in. It operates at around 61 decibels, which is not very loud at all.
The small footprint means you can store this almost anywhere and take it with you in smaller spaces. It includes a 1.18-gallon fuel tank. The overload and oil indicator lights allow you to see at a glance if there is an issue.
---
8. DuroStar DS4000S Gas-Powered Portable Generator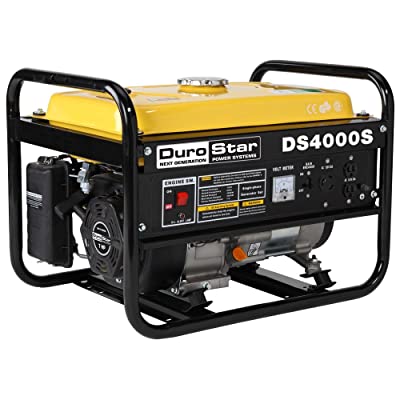 This budget-friendly option offers 4000 watts of starting power with 3300 watts of running power. The 4-gallon gas tank has an operation time of about 8 hours. The motor is mounted at four points and isolated to give quieter operation. If you run this unit with low oil, there is an automatic shut-off to prevent damage.
The volt meter allows you to see your power consumption at a glance. The roll bar design surrounding the unit makes this a durable, stable generator. The fold-down handle and optional wheel kit (sold separately) allow for easier transporting. The muffler works to keep noise operation to about 68 decibels.
How to Find the Best RV Generator for Your RV?
Now you may be asking yourself what are important factors to consider when buying an RV generator? Deciding which generator is right for your recreational vehicle may seem like a lot of work, but these key points and features will put you on the right path.
Be sure to consider your specific make and model of RV before making your final purchase. Some models offer dual-fuel generators for RV's, making it more practical if one fuel type is not available.
Fuel Types
Within the market of RV generators, there are different fuel types used to power each generator. Some generators use propane while others are fueled by diesel or even gas. Less popular choices are generators which are known as bi-fuel or tri-fuel which use a combination of fuel and other additives.
DIESEL: Diesel is known for having an extended shelf life, giving many miles of use. These generators also put out more power than propane types and are non-explosive, so safer to have on hand, unlike gasoline. While propane is still a more environmentally sound choice, diesel burns cleaner emissions than gasoline. Most service stations carry diesel at the pumps so finding a station to get fuel shouldn't be difficult.
Fuel Tank Size
Along with deciding which type of fuel you want to have your generator run on, you will need to look at the size of the fuel tank that comes with the generator. This will determine how long you can travel between stops at the service station for more fuel. If your trips tend to be longer drives, then you should go with a larger capacity tank.
Power Offered
More is not necessarily better when it comes to the power output of a generator. If you have a generator that puts out too much power for the RV you have, then you could trip circuits continuously. If there is not enough power output, you will have trouble running all your necessary electrical appliances and such.
The best way to decide how much power you need in your RV is to look at all the items requiring power and add them up. Keep in mind the calculation Watts= Volts x Amps. So, look at your appliances and determine how many watts you need to run them as well as the air conditioner, the furnace, your lights and so on. Then add up your watts and this will give you a rough idea of how many watts you need for your RV.
This helpful chart gives a rough estimate of watts needed for various items within an RV. Of course, this is only a guide, it is best to double-check your manufacturer's guides.
Noise Control
If you take your RV to campgrounds or remote areas, you will want to enjoy the peace and quiet of the outdoors. This can be hindered by a noisy generator running through the night and into the day. RV generators are often rated with decibels which tell you how quiet or loud you should expect the generator to be. Look for something with lower decibels to keep things quiet and peaceful.
Maintenance
When choosing a generator for your RV, consider how easy or difficult it is to maintain. Because of smaller spaces, hard-to-reach areas and complicated electrical panels, many generators require professional maintenance. It is something to consider for the future since you will want your new generator to last for years to come.
Accessories
There are several smaller considerations you can look for when deciding which RV generator is best for you. Some include an enclosure, which protects your generator from outside forces including animals and weather. A great addition to a generator would be parallel cables which would enable you to use two generators connected for maximum power. Other items could include mufflers, power cords, and adapters and harness straps.
Tips for Using an RV Generator Safely
Any time you are dealing with electricity, fuel and power it is important to keep safety at the forefront. Accidents can and do happen often, resulting in serious injuries and sometimes fatalities. These tips will help you get the most use of your RV generator while operating, storing and maintaining it safely.
Always ensure the safety cap is on the tank (if available) during transport to prevent spills
Never store fuel inside your RV
Always examine the exhaust system prior to use to prevent carbon monoxide poisoning
Change the oil and filter as you would a regular vehicle to maintain overall health
Use in an open-air space and avoid placing it near windows or vents leading indoors
Never use wet hands to handle the generator
All cords and plugs connected should be in good repair, not frayed or split
Turn off and allow to cool before refueling
Keep flammable liquids away from the generator
Always ground your generator before use
Avoid overloading and thus overheating
Keep up with regular maintenance to avoid RV generator repair
Final Review of the Best RV Generator
When you are an RV owner, you want nothing more than to enjoy a relaxing, stress-free, hassle-free time away. Sometimes your trips will be short and other times, longer stays away.
Whatever you choose or wherever you choose to go, you need to be sure you have the right amount of power to keep the comforts of home running smoothly. This guide helps walk you through some key considerations when choosing the best RV generator for your needs and shows you some great options.
Hopefully, you have found this helpful in making an informed decision. Please feel free to leave us a comment or question, we always enjoy our reader's feedback.
Summary
This handy portable generator works so quietly that you might barely notice it is there at only 51 decibels. If you wish to maximize your fuel use, you can use this generator in Eco-mode, which means it will limit fuel consumption on its own. With its lightweight design and carrying handle, you can use this generator in more than just your RV—the beach, tent camping, hunting and more.